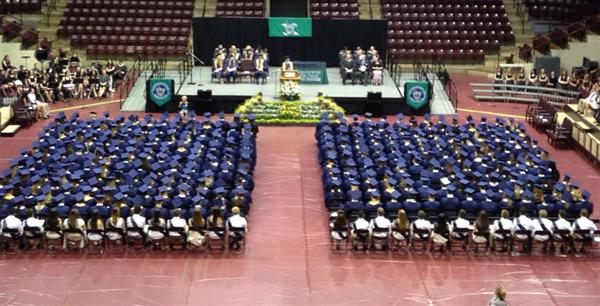 Date: Thursday, June 11, 2020

Time: 9:00 AM

Location: Winthrop Coliseum, 1162 Eden Terrace, Rock Hill, SC 29733

Tickets: All seniors will get 4 free tickets and can purchase up to 10 additional tickets for $10 each.

Directions to Winthrop University Coliseum

From South & North Bound I-77:

Take exit 82-B (Cherry Road).
Merge onto Cherry Road (SC 21—South).
Follow Cherry Road for 3 miles to the intersection of Cherry and Richmond Drive.
Turn left onto Richmond Drive.
Keep straight up the hill to the intersection of Richmond and Eden Terrace.
The Winthrop University Coliseum and other athletic facilities are directly across the intersection.

Helpful Links

Senior Attire for Graduation
Gentlemen are asked to wear navy or dark dress pants, a white dress shirt, dark tie, and dress shoes. Ladies should wear a dress/skirt/shorts (not pants), a top that will not show beneath the gown, and dress shoes. No tennis shoes, boat shoes, or flip flops are permitted for any students. Ladies should affix the white collar that comes with the graduation gown.