Thank you for your interest in our first every Elementary Coding Camp, Powered by Tynker, and Sponsored by the UCPS Career and Technical Education. This camp is now full for 2019. Please check back next year for camp registration.

Description

This camp is available to rising 4th, 5th, and 6th grade students currently enrolled in Union County Public Schools and will be held at Piedmont Middle School from June 24 - 27th.

This camp run each day beginning at 9:00 AM until 3:00 PM. Students must have reliable transportation to and from Piedmont Middle School each day.

Cost of the camp is $75.00 per student payable to Union County Public Schools.

Please complete the online application for the camp (link is below). After completing the application, you will receive an email with a hard copy of the application as well as the Medical Release forms that will need to be completed. Once these documents are received along with the $75.00, your application is complete.

Space is limited and a minimum number of campers is required to hold the camp.

Parents will be notified when payment has been received. When the minimum number of applicants are received for the camp, parents will be notified with their camp confirmation of placement. The $75.00 is non-refundable if your student is notified with their camp confirmation and they are unable to attend, however, if the camp is not held due to low participation, you will be refunded the $75.

Program Description -

The UCPS Elementary Coding Camp will be a fun week of coding and team building activities. Students will not only learn coding through various projects in Tynker.com, but will also unleash their creativity through hands on activities. Campers will build games, interactive stories, websites, programmable circuits, and programmable drones. Coding students will receive personalized instruction and collaborate with new friends. After camp, kids will be able to share projects with family and friends through the online website that we build during camp. Campers will also be able to continue their coding development through online access.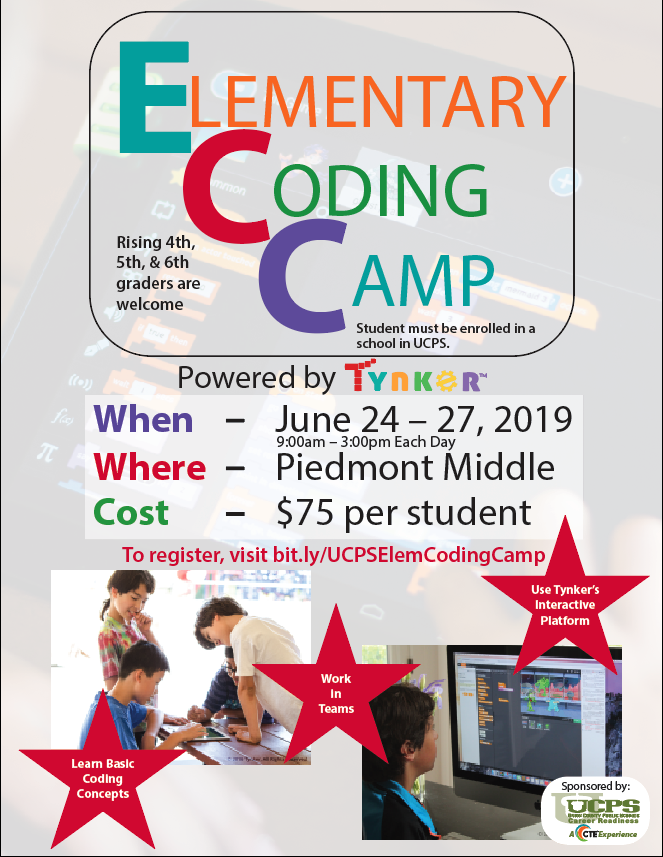 Last Modified on March 4, 2020