The start of a new journey!

During the summer of 2019-2020, parent "Kitchen Table Talks" were held with Mr. Ferguson. Parents gave feedback on our school's strengths, areas for improvement, opportunities, and threats. At the same time, Mr. Ferguson met with each staff member to gather data around similar questions.

The major data findings were the following:

(The numbers represent how many times an item was mentioned in the parent meetings)

New Salem Strengths:

Students and Curriculum (Tie - 10)

New Salem Areas for Improvement:

Communication (Teachers to Parents) and (Admin to Teachers) (A lot of votes)

Discipline (Fairness, consistency, bullying) (9)
After School Activities and Parent Involvement (Tie - 4)

New Salem Opportunities for Growth:

Increase volunteers and partnerships (4)

Increase community service projects (4)

Implement better reward system, common expectations and rules, bullying prevention and consequences

Threats that could hurt our success:

Choice Schools (8 parent votes + staff - this was a heavy emphasis threat from staff)

Negative talk in and outside of the building about NSES (3)

From the meetings with staff the following was determined:

Every staff member who Mr. Ferguson met with 1:1 was asked, "What is our mission? What are we all about?"

There were two common themes in the answers:

We are here for kids - academically and whole child

Not sure...unclear...we have lost our direction

Each staff member was also asked, "What would you change about NSES?"

An overwhelming majority of staff have a desire for NSES to re-experience high levels of student achievement, teacher retention, team cohesion and trust that existed in years past.

Given the feedback from parents and staff, our team set out to establish a refreshed and new common mission, vision, goals, and identity. Simultaneously, we started tackling strategies that would start addressing our weaknesses and playing off our strengths that parents helped us identify.

In order to accomplish these steps, we followed a custom road map to get us there. Please see the below artifacts that we have from the process.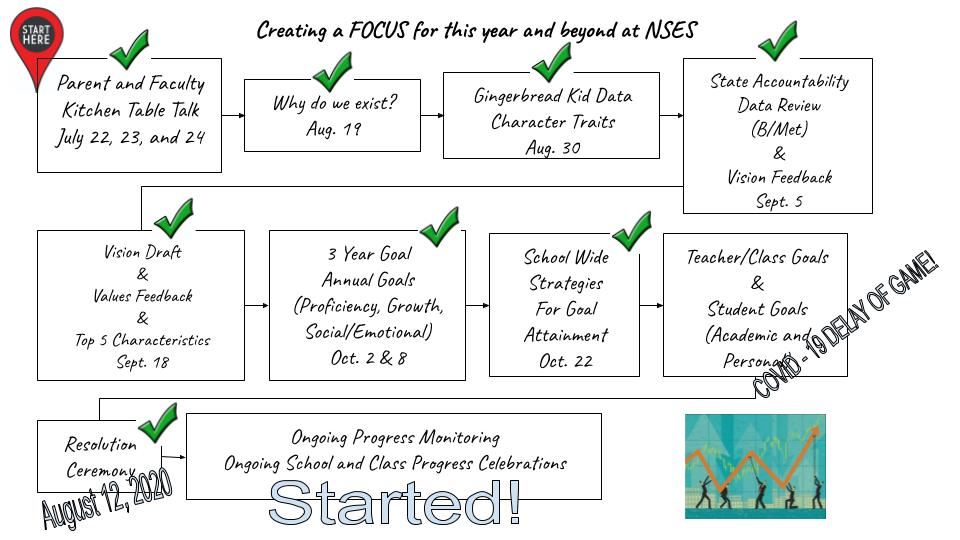 Mission

-Why do we exist?

-

We empower

ALL

students academically and socially to thrive in a changing world.

Vision

-

What must our school become to accomplish our purpose?-

NSES will prepare our students to be confident, goal-oriented, and critical thinkers who show integrity by taking personal ownership for their learning. Staff, students, and community work collaboratively to sustain a positive and safe learning environment. Our passion to build successful leaders will support students to thrive in a changing world.

Identity

-

What will we be known for?-

"We provide world class rigorous work

and world class student leadership opportunities."
On August 12th, 2020 the NSES Faculty publically committed to our

new NSES mission, vision, values, and long range goals.
Before a person THRIVES in life, they must first CHOOSE to thrive!

The New Salem Mission is, "

We empower

ALL students academically and socially to THRIVE in a changing world." To THRIVE is to grow vigorously or to flourish. We seek for all our our scholars to THRIVE! However, thriving starts first with a growth mindset. We each have to choose that we can be better every day and that our true potential is never fully realized. Our New Salem team has embraced the mindset and choice to THRIVE, despite an ever changing world.

The below mural was spray painted by a local Charlotte graphic designer. The mural is a permanent artifact of our committment to live out a #NewSalemThrives mindset in all that we do.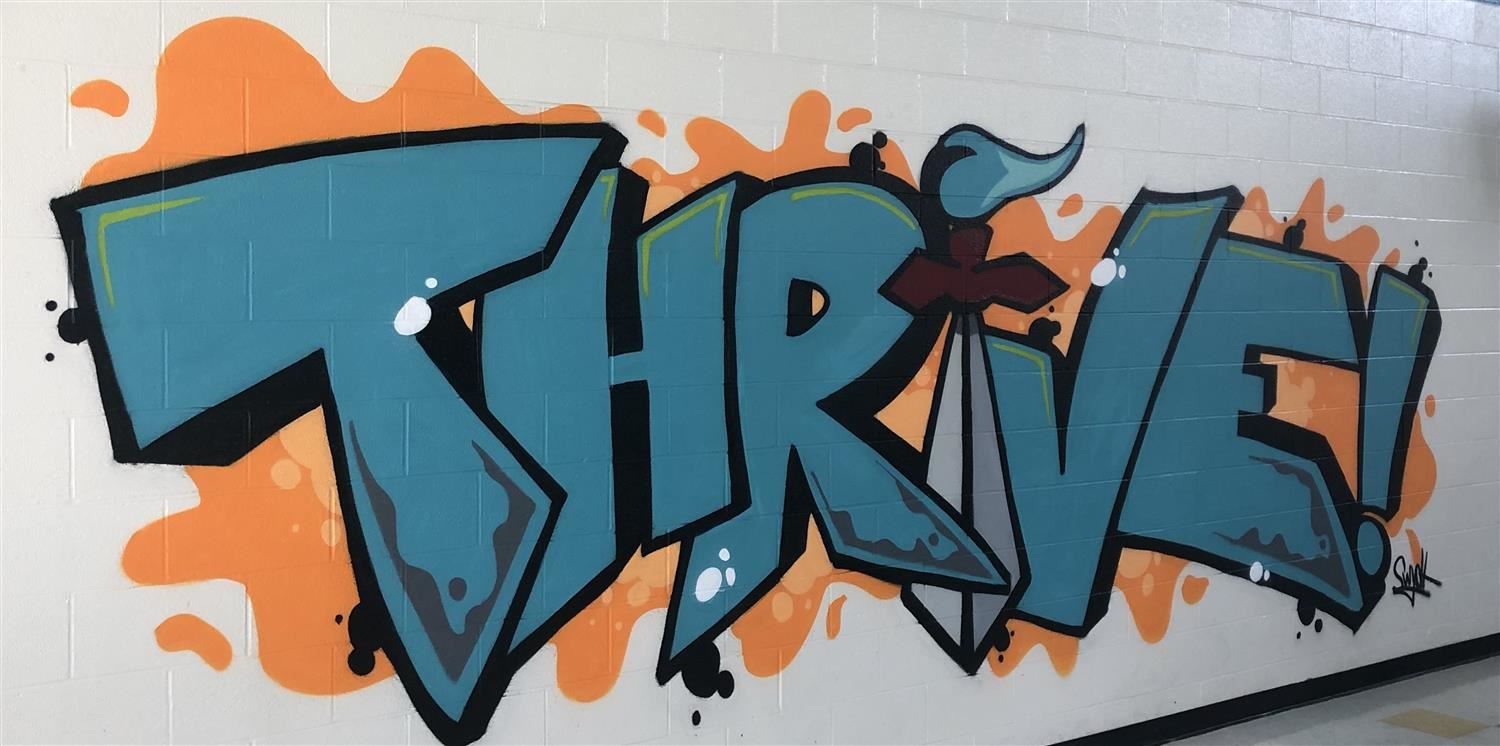 Long Range Goals

What is our long term priority?

By 2022-2023 we will accomplish the following:

1) New Salem Elementary will be an "A" school.

2) New Salem Elementary will attain a growth score of HIGH MET (1.5 or greater).

3) New Salem Scholars will maintain a personal leadership portfolio that will reflect the following:

Ongoing academic and personal goal setting, progress monitoring, and celebration.

Examples and reflections of supporting service learning projects.

Examples and reflections of leading a minimum of one service learning project.

Reflections will demonstrate the 5 core characteristics of a NSES scholar:

Perseverance, Respect, In-control, Dependability, Excellence