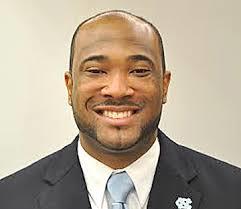 Phone: 704-296-3130
Email:
Degrees and Certifications:
Mr.

Christopher Kelly

Christopher Kelly is a native of Clinton, North Carolina. Mr. Kelly's lineage is derived from an extensive line of educators. Mr. Kelly is an alumni of both the NC Teaching Fellow Program, and The University of North Carolina at Chapel Hill where he earned his undergraduate degree, as well as his Master's of School Administration. Mr. Kelly met his wife at UNC Chapel Hill, and together they have two children.

Most recently, Mr. Kelly earned his Education Specialist degree from The University of North Carolina at Greensboro, and is a continuing doctoral student in the Educational Leadership and Cultural Foundations Program at UNCG. Other notable accomplishments include Mr. Kelly as a former Teaching Fellow Congress Member and an Eagle Scout of the Boy Scouts of America.

Mr. Kelly embodies and exemplifies the commitment to the pursuit of excellence, social justice, and equity in public education, which he identifies as his passion and topmost priority as a leader in education. Mr. Kelly's educational philosophy begins with his wholehearted belief that all students, regardless of race, gender, socioeconomic status, mental capacity or capability, can learn. He feels strongly that it is necessary that all stakeholders in the K-12 setting embody this notion.

Mr. Kelly believes that all educators must possess the necessary content knowledge to support and enhance the development of student learning, and have a clear understanding of the pedagogy and methods that are needed in order to be effective in one's professional practice. This includes how students develop physically, socially, intellectually and emotionally, and the understanding of students' behaviors, and what is needed in order for them to succeed.

Mr. Kelly's educational career experience span over Clinton City Schools, Durham Public Schools, Orange County Schools, Person County Schools, and most recently as principal of Central Middle School, in the Whiteville City Schools district.

While principal of Central Middle School, Central Middle exceeded growth, and ranked in the top 25 of all 115 North Carolina Public School Districts in Reading and Math grade level proficiency and college and career readiness at grade levels 6-8. Central Middle School also ranked as one of the highest performing public schools in North Carolina for schools with a demographic of over 50% of the student population being economically disadvantaged.

Mr. Kelly understands to accomplish these type of results as a school, this requires an enormous amount of dedication, not only from the faculty and staff, but from the community as well. Mr. Kelly is intensely prepared for the future of education, and is fully equipped to have the most positive impact on the community, the school, and ultimately the students' lives.