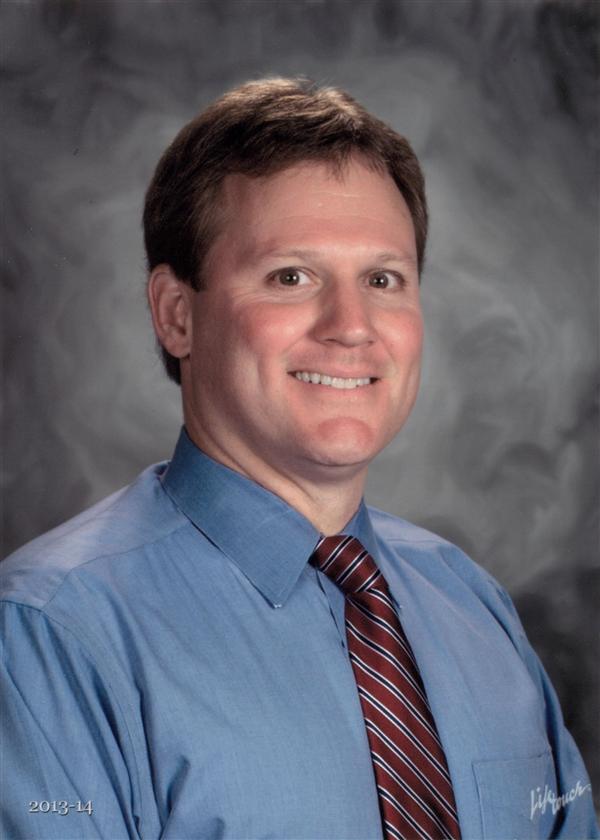 Phone: 704-296-3035
Email:
Degrees and Certifications:
Mr.

Scott Spencer

Mr. Scott Spencer is serving in his 25th year in public education. The 2018-19 school year is his eighth year as the principal at Shiloh Elementary. He is also in his 11th year of serving the students and families of the Sun Valley cluster.

Mr. Spencer received his Bachelor of Arts from Stonehill College in Easton, Massachusetts. He earned his Master's degree in Education from Lesley University in Cambridge, Massachusetts. He furthered his education by earning his Educational Specialist's degree in Educational Leadership from Florida Atlantic University in Boca Raton, Florida. Mr. Spencer is currently enrolled in the doctoral program in Educational Leadership at Wingate University.

Mr. Spencer's career in education began in 1994. Prior to coming to Union County, he spent twelve years with the School District of Palm Beach County, Florida. In Palm Beach County, he served as a classroom teacher for eleven years, and one year as an administrator.

Mr. Spencer began his career with UCPS as an assistant principal at Wesley Chapel Elementary School in 2006. He then spent two years as an assistant principal at Rea View Elementary School. He also served as the assistant principal at Sun Valley Elementary School for two years before coming to Shiloh in June, 2011.

As both a teacher and an administrator, he has always felt strongly about creating positive relationships between schools and communities. He believes in being a highly visible administrator, and he enjoys interacting with teachers, students, parents, and staff on a daily basis. Mr. Spencer was chosen as the 2014 Union County EOP Administrator of the Year. He was selected as the 2015-16 Union County Public Schools Principal of the Year. Mr. Spencer was chosen as the 2017-18 Vice President of the Union County Principal and Assistant Principals' Association.

Mr. Spencer currently resides in Union County with his wife, Kim, their two children, Jonathan (20), and Kaylee (17), and their Golden Retriever, Patrick. Mrs. Spencer is in her 13th year as a UCPS teacher, and both of their children have attended UCPS schools. Jonathan is enrolled in his sophomore year at Appalachian State University.

When he is not at school, Mr. Spencer enjoys spending time with his family, playing the guitar, exercising, and working around the yard. Mr. Spencer was also an Assistant Scoutmaster with the Boy Scouts of America with Troop 120. In August, 2015, he became the proud father of an Eagle Scout! During the summer of 2016, he accompanied scouts from Troop 120 to the Boy Scouts of America's National High Adventure Sea Base camp in the Florida Keys.

Mr. Spencer is very proud of his school for being recognized as a 2013 National Blue Ribbon School by the United States Department of Education. He looks forward to continuing to be a part of this wonderful school community for the 2018-19 school year and to maintain the high expectations for excellence that have been in place at Shiloh for many years. He was also very excited about being a part of the Shiloh school community as the school just celebrated its 101st year!
Principal's Notes

September 17, 2015

I hope everyone has had a smooth start to the new school year. With our fall intersession around the corner, the year seems to be settling in quite smoothly by all accounts. As the two-week break gets closer, I want to encourage all of our students to set aside time for reading during that break. One of the great advantages to our year-round calendar is this extended break every October. It is our special time to not be in school while everyone else is! I hope everyone finds time for family, friends, and fun once the intersession arrives. However, the teacher in me also wants to also encourage some time for reading as well. Our teachers, assistants, and tutors do such a fantastic job each day of sharing their love of reading, along with their expertise, with our students. Please do what you can to keep our students reading while not in school as well. Also, I want to be sure to take a moment to recognize every staff member here at Shiloh. They work so hard each day to help our students to succeed, and I want them to know that they are appreciated. Parents-thank you for your on-going support as well. Enjoy the break!

May 6, 2015


It is Teacher Appreciation Week at Shiloh, and I want to take a moment to talk about teachers. I have been in education for twenty one years, and I promise anyone reading this who has never been a teacher or worked in a school that being a teacher is an extremely demanding and difficult job. That is not to say that being a teacher is not rewarding by any means. That would not be fair or accurate. And certainly, I have met hundreds, if not thousands, of parents over the years who have truly expressed their thanks to the teachers with whom I have worked. These parents have dedicated their time in the classroom, sent notes and e-mails of thanks, and supported the teachers throughout the year.

Yet, to some, being a teacher may "look easy." Over the years, I have heard some parents say, "They get their summers off…they get to leave at three o'clock," and so on. Many of us in education have likely heard those remarks. However, what some, if not most, parents do not see is everything that goes on 'behind the scenes' in the life of a teacher. As a classroom teacher for eleven years, I know firsthand the hours spent during the week, on weekends, and sometimes on holidays that go into planning lessons, grading papers, answering e-mails, and getting ready for the next school day. Things do not magically appear each day for students to do when they enter the classroom.

My wife is a teacher, and I see the long hours that she spends on weekends, warm Sunday afternoons, early mornings, and late at night in preparing for her class. This daily time spent on their jobs is in addition to teachers earning college degrees, earning teaching certificates, attending professional development workshops, going to after school meetings, attending trainings during the day, completing required assessments, attending parent conferences, attending grade level meetings, attending staff meetings, etc. Those are just some of the expected, and not extra, components of being a teacher.

However, in spite of increasing demands, teachers perform the duties of their job each and every day and they show up to school ready to teach their students. They keep their students safe, they comfort them when they are not feeling well, and they instruct them on the lessons of the day. They also meet together to debrief on lessons and assessments, to plan for the next day, and then they get ready to do it all over again the very next day. I have so much respect for everyone who is a teacher. In addition to the teachers at my school, my own children have had wonderful teachers over the years. I want to be sure that they know they are appreciated, and that I fully understand and respect what they go through each and every day.

In particular, the teachers at Shiloh Elementary School are phenomenal educators and fine, sincere people. They may be surprised to read this, but I learn from them every day. I continue to learn from them about both the spirit of collaboration and the high expectations that are in place at our school. Shiloh teachers demonstrate this through their actions, not their words. It is important for me as their principal to be their voice, because it is not in their nature to tell everyone about all that they do as teachers.

I see what our students and our parents do not see. I see the teachers' cars here very early in the morning and late at night. I see them comfort each other in times of need. I see the hours they spend donating resources, time, and sometimes money to their students' families who are in need of help. I see them help at community functions and expect no recognition in return. I see them nurse students with sick stomachs or skinned knees. I see them attend special functions for their students when parents are not able to attend. I see their e-mails which are sometimes sent long after most people are asleep, or on weekends. I see the time they put into their planning. But most of all, I see the Shiloh teachers planting the seeds for future leaders, citizens, and responsible adults.

Yes, there is so much that I see when it comes to the teachers at Shiloh. It is because of all this that I truly know the great job that Shiloh teachers do each day for our students. To all of the teachers at Shiloh, I proudly say, "Happy Teacher Appreciation Week!"


April 22, 2015

Believe it or not, we are nearing the end of April and the 2014-15 school year is rapidly coming to a close! There are so many exciting events happening at Shiloh over the next several weeks, and we don't want you to miss any of them. Please be sure to check the "Announcements" section and the calendar on the Shiloh website for information about upcoming events. Please be sure to also check with your child's teacher as well if you have any questions about end of year events. Lastly, don't forget to sign up for our new e-mail blasts ("Shiloh e-news") to be kept even more in the loop of what is going on around school. As the year starts to wind down, thank you again for all of your support this year!


Friday, February 6, 2015

Shiloh has heart! I am amazed each day by things that my staff does for those in need. There are so many staff members who give their time, talents, monetary donations, etc., to help those in need. What makes this so special is that they do not go around telling everyone what they do. In fact, most of the time they don't tell me. I have found out about their kind actions through notes or calls from parents or simply by finding out by accident. That is because these are people who are genuinely interested in helping those in need. This includes assisting students and families with financial needs, spending time collecting and donating food and clothing items to those in need, and spending time with those who have suffered losses in their lives. These people are my true heroes because they do for others without wanting anything for themselves. I am proud to say that I am a Shiloh Bulldog.


Thursday, December 18, 2014

I have sat in several meetings recently with parents. During one of the meetings, the parents shared something with me that truly made me thankful to be at Shiloh. Their children have been at other schools, but they shared that Shiloh is "the best school ever." One of the parents emphatically said, "I love Shiloh." At the point of tears, the parents thanked our school for all the help that their children have received from us. They also shared that they will absolutely not move from this area, ever, so that their children can remain here. These parents were able to recognize the strong intervention program that we have in place here designed to provide assistance to struggling students. They also were thankful for the character education that we do here at Shiloh aimed at giving our students the skills they need in order to be productive and responsible citizens.

This reminded me of at least three other families who purposefully moved into our area just so that their children could attend school at Shiloh. While I certainly recognize that all schools have excellent teachers, I couldn't help but feel a true sense of pride for our school. To have parents truly recognize that we have high expectations, both academically and socially, for our students made me smile. Our school is full of teachers, assistants, tutors, and other various staff members who give everything that they have each day. Hearing such positive feedback from parents truly validates all of their hard work each and every day. Go Bulldogs!


Wednesday, December 10, 2014

I know we have many new parents to Shiloh this year. I want to be sure that you are all aware of the amazing recognition that Shiloh received last year from the United States Department of Education. Shiloh was one of only two elementary schools in North Carolina (and one of six total in the state) to win the national Blue Ribbon Award! This was Shiloh's second time being recognized as a Blue Ribbon School, as we had this honor back in 1999. To our knowledge, we are the only UCPS school to have received this honor twice. We were proud to share this honor with nearby Weddington Middle School as they also received the award. In November of 2013, I had the honor of traveling to Washington, D.C., with Mrs. Diane Hasty to accept the award on behalf of Shiloh. Our Superintendent, Dr. Mary Ellis, was there as well, and that certainly added to the honor. The performance of our students that resulted in this award is a true reflection of the high expectations that our staff holds for our students. It is also a reflection of the amazing support that we receive from our parents.