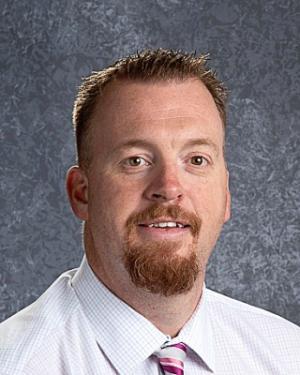 Phone: 704.296.3020
Email:
Degrees and Certifications:
Dr.

Mike Harvey

Dr. Michael Harvey was previously the principal at Benton Heights Elementary School of the Arts serving as principal for six years. In September 2011 he accepted the position as principal of Monroe Middle School. He has worked in the Monroe community for 18 years as an educator and administrator. He is passionate about working with the students, teachers, and with the community of Monroe.

Dr. Harvey graduated with a B.S.E. in Physical Education from SUNY Cortland, a MA in Educational Leadership from Winthrop University, and his Ed. D from Wingate University in August of 2011. He has spoken at various conferences locally and across the state of North Carolina. In his tenure at Benton Heights Elementary School of the Arts he was able to accomplish some of the highest growth scores in the county. At Benton Heights he raised the school's composite score 13%. At Monroe Middle Dr. Harvey has improved the growth composite from -9 to a positive 10. Dr. Harvey believes that students should have exposure to enriching academic opportunities that engage and excite students. The three E's will lead students, teachers and the community to the fourth "E"-Excellence!
---
Family: Wife Diann Harvey, married 13 years. Son-Nicholas, 11 years old, 5th grade at Sun Valley Elementary, Daughter – Olivia, 9 years old 4th Grade at Sun Valley Elementary, William 18 months.
Years in Education: 16 years
Philosophy of Education: Enrich, Engage, Excite, Excel
Education: BSE – SUNY Cortland, MSA – Winthrop University, Ed. D. – Wingate University
How do you build rapport with students? I build rapport by building trust through open and honest communication. I also believe in following through with what you say you are going to do and in validating students' thoughts and ideas, speaking with them about things beyond the school day, and by showing up to their games, dance recitals, band competitions.
Work History: 14 years in UCPS, 5 years as a Physical Education Teacher at Benton Heights Elementary School of the Arts, 3 Years as the Assistant Principal, 6 Years as Principal of Benton Heights, and 3 years at Monroe Middle School.
Favorite Movie: Hoosiers
Favorite Restaurant: Hobbies/Interests: Outback Steakhouse, sports, coaching, running and mountain biking.
Favorite Quotation: "If you don't think every day is a great day…try missing one"
Most Recent Book: In the Company of Heroes by Michael J. Durant