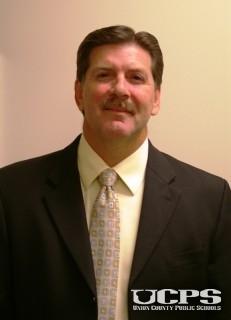 Phone: 704-289-7497
Email:
Degrees and Certifications:
Mr.

Ken Roess

Mr. Roess became the Site Administrator at Walter Bickett Education Center in June of 2013. Previous to the tremendous opportunity to lead at WBEC, he has spent thirteen years in various administrative roles at the school and central services level. After nine years of teaching science in both the public and private school setting, he has served as an assistant principal for five years at Piedmont High School, three years as the principal at Sun Valley High School and five years as the Director of Employee Relations.

What excites Mr. Roess the most about the opportunity to serve at WBEC is being around young students, especially during these early formative years. He is also enjoying being around the many varied programs offered by UCPS that are housed at Walter Bickett Education Center such as the Pre-K Program, Cosmetology Program, the EC Assessment Center, the ESL Academic Support and Resource Center and an evening Alternative To Suspension program. He mentioned that in the past several years, when interacting with the staff, he has been impressed with the passion and caring that is evident with each person.

Mr. Roess has lived in Florida, Arkansas and for the past 18 years, has called North Carolina home. It is here that he met, and in 1999, married the love of his life. He is incredibly proud of his stepson, Chris, who works in law enforcement. In his free time, he enjoys reading, walking, working out at the gym and traveling.

The work that is done at WBEC is incredibly important. The staff is a team of hard working, compassionate, and creative professionals. Mr. Roess looks forward to continued accomplishments in the upcoming school years. Each year, he is especially excited to meet the students and parents that make WBEC such a special place.