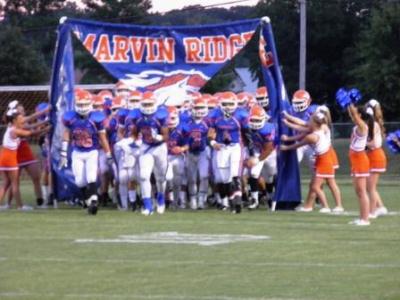 General Information
All schedules, announcements, and calendar events can be found at the above link
ALL athletes must register to tryout for a sport. All prospective athletes can register through the MR Athletic Booster Club website or on paper in the front office. Please click here for information-
Marvin Ridge Mavericks Athletic
ELIGIBILITY
Information about high school eligibility can be found in the Marvin Ridge Athletic Handbook for UCPS eligibility guidelines. UCPS follows all North Carolina High School Athletic Association Eligibility guidelines in addition to Union County Public School specific guidelines for participation in Extra and Co-Curricular activities. Please read the information from the following sources.
Information about NCAA eligibility for athletics in colleges, please go to the website below and be sure to register through the NCAA Eligibility Center to ensure that the NCAA receives all appropriate information. For questions, please contact Ms. Lori Sgan, guidance counselor.
ATTENTION ALL PROSPECTIVE MARVIN RIDGE ATHLETES:
Click on the links below to download the Mandatory Forms that MUST be on file with the Athletic Department prior to tryouts and participation with any athletic team at any time during the academic year. (Only page 3, the Insurance Waiver form, is required for PRE-tryout activities.) Physical forms are valid for one calendar year.
Forms needed in order to tryout for a sport:
Student Insurance form
Participation Form
Physical Form - New!
Emergency Form
Concussion Statement Form for parents and athletes
NOTE TO PARENTS:
Please keep a personal copy of all insurance / athletic forms that you turn in. The school is not able to make copies of physicals for you, so please keep your original and only submit a copy to the school.
---