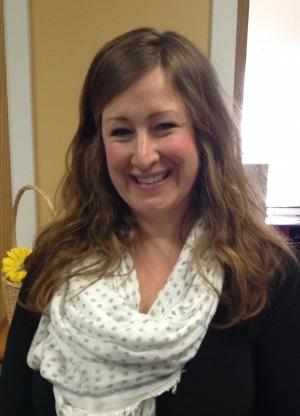 Phone: 704-624-5400
Email:
Degrees and Certifications:
Brianne Johnson

Mrs. Johnson is the school counselor at Porter Ridge Elementary. This is her first year at Porter Ridge Elementary and her 9th year as a school counselor.

Mrs. Johnson went to school at St. Bonaventure University, NY, and received a bachelor's degree in psychology. She then went to Alfred University, NY, where she earned a master's degree in school and agency counseling. While attending graduate school Mrs. Johnson coached the Alfred women's lacrosse team.

Mrs. Johnson and her husband have two children. She enjoys photography, reading and interior decorating.

Mrs. Johnson's counseling philosophy is to focus on the child's strengths while improving on their areas that are of concern.
School Counseling At Porter Ridge Elementary

The school year is off to a great start! Our students are happy and busy—they have been practicing school rules and procedures, along with their academic learning.

As you know, we have a zero tolerance policy on bullying as outlined in the Student Manual. I will be meeting with 3-4-5 students in the next few weeks to discuss bullying and practice ways of handling it. We have a "Bully Box" in the Media Center so that students can report incidents in a confidential manner, and of course they can always talk privately with any staff member. We are encouraging students to speak up when they see something harmful happening.

This year we will also be continuing our "Bookbags of Love" partnership with Idlewild Baptist Church. Needy students will carry food for the weekend home in an extra bookbag. Please call me at 704.289.1965 if you would like to be considered for the program—we will be starting soon.

If your child is feeling worried about school or not making a good adjustment in their new classroom, please let us know. We want to help every student have a wonderful and productive year

What do school counselors do ?

School counselors are helpers. They help students work on being successful and confident learners. They help parents and teachers in guiding students to do a good job.

Sometimes students need help with making smart choices and with handling their feelings. Having someone to talk to is part of working things out. Sometimes students need help with managing behavior and developing good habits. Having someone to study and practice with is a good way to learn.

What activities are part of school counseling ?

Counselors meet with students individually or in small groups to work on good feelings and good behavior. Counselors and students also draw, write, read, and play learning games as part of working out problems and developing helpful habits. Classroom lessons are another way that counselors work with students to develop skills in citizenship, problem-solving, lifelong learning and working well with others.

Brianne Johnson , Counselor

704.289.1965

Links

Here are some great websites for parents! Please let me know if you find other good resources for parents or children.

http://family.samhsa.gov/ is from the US Department of Health and Human Services and has good articles about setting rules and helping your child choose friends.
www.nctsnet.org is from the National Child Traumatic Stress Network (also in Spanish)—there are sections on helping children deal with death and several sections for military families under stress

Someone you know or your child knows may need this information: National Suicide Prevention Lifeline 1-800-273-TALK
United Family Services works with families by offering individual and family counseling, crisis counseling, and credit counseling for an income-based fee. Call these great helpers at 704.226.7770 ----or visit them online at www.unitedfamilyservices.org
Here's a great step-by-step solution to helping children solve their own problems.
Confidentiality Statement

School counselors recognize their primary obligation for confidentiality is to the student but balance that obligation with an understanding of the family or guardians' legal and inherent rights to be the guiding voice in their children's lives (ASCA Code of Ethics).
The role of the school counselor in regards to confidentiality is:

To support the students right to privacy and protect confidential information received from students, the family, guardian and staff members
To explain the meaning and limits of confidentiality to students in developmentally appropriate terms
To provide appropriate disclosure and informed consent regarding the counseling relationship and confidentiality
To inform students and the family of the limits to confidentiality when: Student poses a danger to self or others, Court ordered disclosure, Consultation with other professionals in support of the student i.e. colleagues, supervisors, treatment teams, and other support personnel
To keep personal notes separate from educational records and not disclose their contents except when privacy exceptions exist
To seek guidance from supervisors and appropriate legal advice when their records are subpoenaed
To assert their belief that information shared by students is "confidential" and should not be revealed without the student's consent
To adhere to all laws protecting student records, health information, and special services (i.e., HIPAA, FERPA, IDEA)