Return to Headlines
Wolfe School's newest 'CATA-lysts'
In the heart of Monroe, two seemingly different schools on the same campus have forged an inspiring partnership. Central Academy of Technology and Arts (CATA), a traditional high school with special programming, and Wolfe School, a place dedicated to students with severe and profound disabilities, have joined forces to create a unique learning experience that benefits students and teachers.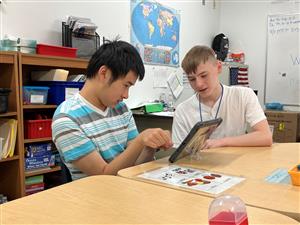 The relationship between the schools began years ago with CATA students volunteering for special events like field days and seasonal gatherings at Wolfe. While briefly filling in for principal Patricia Daniels at Wolfe last year, Dr. Michelle Newnam, CATA's assistant principal, recognized the potential for a more formal partnership through peer tutoring.
"I have been a high school administrator for five years and felt that students are an untapped resource in peer tutoring at the elementary, middle and high school levels," said Newnam. "I sent an interest email to the rising juniors and seniors. I had a great response and was thrilled to have so much interest. During registration, students filled out a form indicating they wanted peer tutoring at Wolfe for the 2023-2024 school year."
Kevin Beals, the principal of CATA and Daniels provided complete support for Newnam's proposal for revamping the peer tutoring program. It now enables peer tutors to work alongside Wolfe teachers and to earn honors-level credits.
"There are many benefits. Our students will learn empathy as they support students in their learning and life challenges. The relationships built will be meaningful and fulfilling for all involved," said Beals.
CATA juniors and seniors can take advantage of the peer tutoring program. Sixteen students have signed up so far. The school anticipates additional enrollments in the upcoming spring semester as more students become aware of it.
Michelle Ramirez, a senior at CATA, discovered her passion for teaching through a combination of family legacy and this new offering. Michelle's mother, who had a career in education, inspired her with stories of her own experiences. Michelle eagerly accepted her school counselor's suggestion to become a peer tutor and work with an experienced teacher, viewing it as an opportunity to gain valuable professional insights.
"I like teaching kids and hanging out with them. Some of what I work on with the students here are worksheets, often about math or reading. One activity had cut-out numbers that I had to help them place in the right order," said Michelle. "The teachers have been very supportive. I see how they explain things to the students, which helps me interact with them better."
Megan Miles, an Exceptional Children's teacher, said her students love it when Michelle visits.
"They get so excited when she walks into the room," said Miles. "She's very patient and takes direction well. Having that peer presence, similar to an older big sister, is a great benefit. They feel very comfortable with her. I started by having her work one-on-one with students. Now, I'm having her work in groups of two."
On this day, Miles guided Michelle in instructing and leading small group reading sessions.
"I explained how to help children start reading. I was stressing the need to read aloud to them and to convey the concepts of the front and back of a book, pointing out specific capital words and periods," said Miles. "She caught on quickly."
CATA twelve-grader James Grady mainly works on communication and goal-setting skills with the students he tutors. James signed up because his mom teaches special-needs elementary students, and he wanted to experience her job firsthand.
"I may potentially be interested in teaching," said James. "What I like most about coming is talking to the kids and getting to know them."
The two students he works with most often are twelve-graders Tides Li and Chris Zikos. While sitting beside Tides, he engaged in conversation by posing questions, to which Tides replied using his tablet. The tablet displayed both images and words to facilitate communication.
Earlier in the week, he and Chris built a bridge together. Chris has a knack for constructing things and completing large puzzles that adorn the classroom walls.
"It's nice to bring some fresh faces into our classroom. Many of my students have been together for several years. It's exciting for them. I've seen an increase in motivation. They enjoy working with James," said Anthony Day, a self-contained EC Teacher. "We work on socialization skills often. James has been good at working with a lot of different students. He's been a good fit for our class."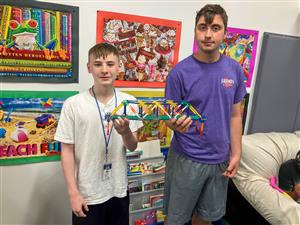 The benefits of this partnership go way beyond credits. CATA students gain essential insights into the world of students with special needs, learning to support their peers and nurturing empathy and inclusivity. Wolfe School students develop friendship skills, gain role models, improve problem-solving abilities, and boost self-esteem—all while learning from their CATA counterparts.
Daniels wants people to know that Wolfe is home to a remarkably humble group of teachers who take immense pride in their students' achievements and growth. They hold their students to high standards and create a safe and supportive environment within the school. However, they might not always be met with the same appreciation and compassion when they engage with the larger community.
"I'm hoping the peer tutors are learning from our students as much as they are learning from them. We hope they become advocates for them, too. Michelle and James or any of the peer tutors can speak about our kids to their friends and their families in a different light," said Daniels. "They may go into teaching themselves because of the connections they are making. Peer tutors are also around our occupational, speech and physical therapists, who all work in education. It may unlock another path."
09/12/2023