Return to Headlines
Virtual reality headsets help UCPS students explore college options
A college campus tour, it's an academic tradition and necessity when exploring the options of higher education. The sights, the sounds, the great information from the tour guide are all a part of the experience and can help make the decision to attend a particular college or university. Now imagine that experience virtually, from the classroom.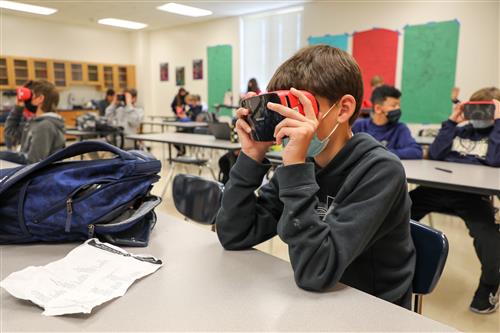 Last month, Union County Public Schools (UCPS) seventh graders had the special opportunity to check out various colleges and universities in North Carolina and across the country thanks to virtual reality (VR) headsets.
Previously, UCPS fourth and seventh-grade students would take a field trip to a college or university each year. Due to COVID restrictions, schools were unable to take those field trips during the 2020-2021 school year.
With this in mind, the UCPS College and Career Readiness Department got creative and provided students in fourth grade with the opportunity to explore their career interests as well as the colleges and universities in the UNC system through a social studies lesson connected to North Carolina geography.
Through VR headsets seventh graders also experienced an activity to help them understand that choosing a college should be based on their career interests. Students began with a Career Interest Inventory from the College Foundation of NC (CFNC), linked their preferred career to a major, and then matched the academic major to a college. Once the students identified three careers and majors of interest, they took a virtual tour of three different colleges or universities.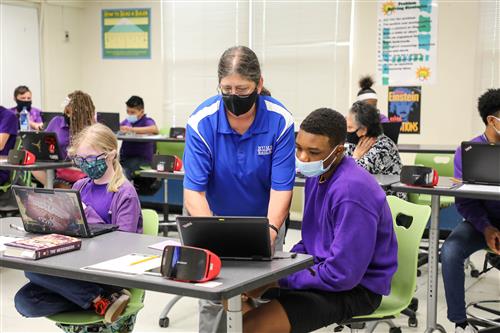 "I want to go to an out-of-state college, but we're in North Carolina so I can't just take a field trip and go, but with this, I can actually see it and go at my own pace. The best part is you don't have to walk," said Thane Hardy, a seventh-grader at Cuthbertson Middle School. Thane says he wants to be a surgeon when he grows up and is interested in attending Bryant University.
Purchased with federal money, the virtual tour was enhanced by the use of VR headsets. Allowing students to explore various campuses and learn more about the institutions they are hoping to one day attend.
While using the technology, students were also able to view most of the college campus including the dorms and auditoriums.
"To go ahead and start looking at what college life would be like, and thinking about their interests and where they want to go with their futures is very important," said Emily Culberson, seventh-grade assistant principal at Cuthbertson Middle School.
For many of the students, this was their first exposure to a college campus tour and many teachers took notice of that spark of interest each student had with the technology.
"Doing a virtual tour like this is a good first step, it will give us a lot of information so we can cater to students' needs and interests," said Greg Topper, a seventh-grade social studies teacher at East Union Middle School.
Click here to see UCPS seventh graders experience college visits through the VR headsets.