Return to Headlines
A first-year teaching experience filled with familiar faces
Brianna Wheelock is a new teacher at Hemby Bridge Elementary but is not a new face at Union County Public Schools (UCPS). Wheelock attended Hemby Bridge Elementary, Porter Ridge Middle and Porter Ridge High. She also completed her student teaching and worked as a substitute and tutor in the district.
Before enrolling in her high school's Teacher Cadet Program her senior year, Wheelock wanted to be a pediatric or neonatal nurse. Her work as a teacher assistant at Hemby Elementary that year made a significant impact. It was the catalyst for her switching from nursing to teaching at the end of her first year at Wingate University.
"I would go to Hemby Bridge in the mornings to read to the kids and help them read and write. As the days passed, I loved being in the classroom. It was in the back of my mind that teaching was something I would want to do," she said. "As I took my nursing classes in college, I had friends taking education courses and working in classrooms. I really began to miss it."
Wheelock knew her career would include working with children. Her field of study changed, but her desire to help others did not. A classroom is where she felt she could be the most helpful, especially in a place she calls home.
"Coming to teach at UCPS was a no-brainer. It's home," she said. "My sister Makayla graduated from Porter Ridge High and is in college now. My brother Jacob is going to high school there this year. He has actually been helping me bring some materials into my classroom. They both think what I'm doing is cool."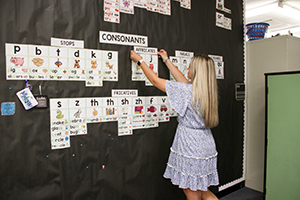 Preparing for a new school year can be exciting - and a bit unsettling - for a new teacher. Wheelock is relaxed, happy to see familiar teachers and eager to meet her second-graders.
"I want to make my students as comfortable as possible and make my classroom a place where they excel. I want to get to know them and support them in getting to know one another," she said. "I was a quiet student and not very outgoing. I would get stressed when a teacher would randomly call on me. I don't want to do that to my students. There are other approaches to getting them to open up and participate in a manner that is right for them."
Wheelock said what she remembers most about going back to school as a kid was attending the open houses. She encourages families to go if they can go.
"I remember being eager to learn what we would be studying that year, meet the teacher, find out who was in my class, see the classroom setup and where I would be sitting," she said.
Wheelock decided to work with elementary students because she appreciates the importance of laying the groundwork for their future studies. She plans to include hands-on learning whenever possible so her students can interact with the material they are learning.
"I am a person who explores and try new things. I like to hike and travel. I recently participated in a Spartan race. I entered the race on a dare but now want to run in more," she said. "When you put things into action, you often start to like them and become better at them."
Three words she uses to describe herself are compassionate, motivated and passionate.
"I want to be there when my students need me. If they are having a bad day, I want to be the person to help them turn it around. As my students get to know me, they will learn that I'm always excited about what comes next, no matter the size of the task. They and their families will see that I care about them and what I do. I always strive to be the best I can be," she said. "I'm looking forward to the first day!"
08/24/2022