Return to Headlines
Monroe High's Johnny Sowell named inaugural Coach of the Year for exceptional leadership on and off the field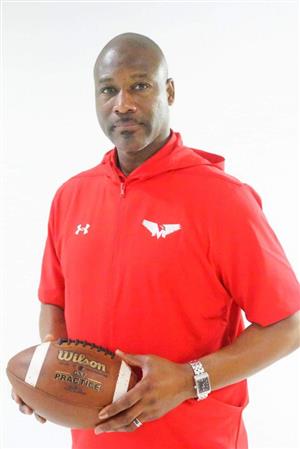 Monroe High School's beloved coach, Johnny Sowell, was named the inaugural Coach of the Year winner during a surprise celebration on April 6.
Student-athletes and staff filled the school auditorium to show their appreciation for him and to share the moment with him. Coach Sowell was in the audience under the guise of a guest speaker coming to talk to the student-athletes. When Superintendent Dr. Houlihan took to the stage to present the speaker, Coach Sowell had no idea he was the honoree. When it was revealed the atmosphere was booming with excitement, cheers and thunderous applause. He was visibly moved by the outpouring of love and support. His family joined him on stage as he received his plaque and a jacket.
"The district has not had a Coach of the Year until today. I've been in UCPS now for seven years. I have never met a more talented coach, a more dedicated human being and a person that is more filled with a sense of ethics, integrity and judgment," said Dr. Houlihan. "I've never met anyone more dedicated to Monroe High School.
The award was a well-deserved recognition of his unwavering dedication and hard work in the sport of football. For 37 years, Sowell has been a mainstay at Monroe High, and his influence on the program is undeniable.
"I didn't see this one coming. I'm blessed to have been nominated and to win is an honor. A lot of the coaches that were up for this award are good friends of mine. Regardless of who got it, the person would've been worthy of it," said Coach Sowell. "I'm just glad to touch these students' lives. That's what it is about. If it was about anything else I would've gotten away from it a long time ago. It's not about money or fame because I'm only as good as they are and as good as my coaches are. I tell them that all the time. We are a team, we do this together."
Sowell's love for the game started when he was a student at Monroe High, where he excelled in football, basketball and track. He went on to play football at Appalachian State University, where he honed his skills and eventually began his coaching career.
Coach Sowell's passion for football is contagious, and he has spent the past 37 years instilling this love of the game in his players. He has a record of 160-75 in his 18th season as head football coach, and he has led the team to incredible heights, including a perfect 16-0 season in 2015 and a 2AA State Championship win the same year.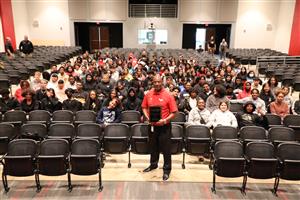 "I'm very excited for Coach. He deserves this. I look up to him like a father because it's not just about sports he teaches me about the person I want to be in life. Throughout my four years here and on the football team, I've made so much progress from my freshman year until now. I really thank Coach for that," said Kahamoni Robinson, a student-athlete and senior.
His teammate Kemari Laney, a football player and senior, has also benefited from Coach Sowell's wisdom and guidance.
"Coach Sowell got me on this field for two years and has gotten me an opportunity to play college ball. He is a father figure and I've improved tremendously academically because he pushes me to be successful on and off the field," said Kemari.
His achievements have not gone unnoticed, as he has been named Conference Coach of the Year five times and has received a slew of other awards, including the 2011 North Carolina High School Athletic Association Coach of the Year, the 2015 Enquirer Journal Coach of the Year and the 2016 Bronko Nagurski Coach of the Year.
Under Coach Sowell's leadership, numerous students have received athletic and academic scholarships to attend college. He has also coached several players who have gone on to play in the NFL, including Jamison Crowder of the Buffalo Bills, Richard Huntley of the Pittsburgh Steelers, Terry Witherspoon of the Dallas Cowboys, Dion Byrum of the Carolina Panthers and Issac Blakeney who played for Pittsburgh Steelers, San Francisco 49ers and the Washington Redskins.
But Sowell's influence extends beyond the football field. His commitment to building a family atmosphere and instilling core values like commitment, passion, discipline and integrity in his players has helped create a program that the entire community is proud of.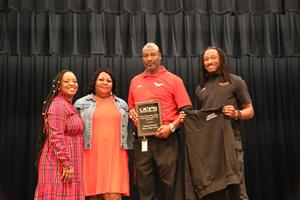 For Sowell, the ultimate goal of a football program is to teach young men and women not just about the sport, but also about life. He encourages his players to be successful academically and athletically and stresses the importance of building connections with student-athletes and their families.
In receiving this award, Sowell hopes to inspire current and future coaches to coach with passion and love for their sport and to recognize the value of high school sports in Union County Public Schools. He wants to ensure that coaches lead by example and do what's best for their students, guiding them to become great men and women on and off the field.
Union County Public Schools is proud to call Coach Johnny Sowell one of its own. The school community is grateful for his years of dedication and commitment to the program.
"Coach Sowell is so much a part of the heart of this place. I jokingly call him my mayor of Monroe High School. He eats, sleeps, lives and breathes this place. The kids and staff know it," said Principal Shannon Batchelor. "He's a valued part of the administrative team. At 3:05 p.m. he becomes Coach Sowell. It's been really special to watch him coach over the last few years and to see the relationship he builds with students. I'm so proud of him because he's made such an impact."
04/06/2023