Return to Headlines
Inaugural Wayfind class comes full circle with scholarships to Wingate University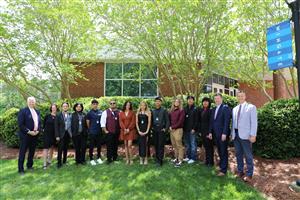 For many students, the road to college can be daunting, especially for those who are the first in their families to pursue higher education. But for a group of Union County Public Schools (UCPS) students from Monroe and Forest Hills high schools, the Wayfind program has made that road a little easier. For the inaugural class of Wayfind scholars, that road has led them back to where it all began: Wingate University. Watch what the scholars have to say about their experience.
Wayfind, a partnership between UCPS and Wingate University, pairs middle and high school students with mentors to prepare them for college. The program represents a gift of college and a promise of a better future, especially for potential first-generation college students. Among the first Wayfind scholars, 10 have made it a reality.
Wayfind inducted its first class of eighth-grade students in February 2019. Over the next four years, these students would work with mentors to develop the skills and knowledge necessary to succeed in college and beyond. On Friday, April 28, 2023, those scholars came full circle, celebrating their accomplishments and the doors Wayfind has opened for them. As a result, each of them is eligible for a full four-year scholarship to Wingate University.
Scholars were honored for their achievements at the university's Laverne Banquet Hall. The room bustled with excitement and pride as the scholars, their families and guests gathered to commemorate the day. Dr. Jeff Frederick, the Provost at Wingate University, began the ceremony with opening remarks. He conveyed his joy in being part of such a monumental moment and thanked all involved.
"This program is absolutely a difference maker. Congratulations to the parents and family members of the Wayfind scholars who trusted all of us to bring this program to life," said Dr. Frederick. "You encouraged, believed in and reminded your children that what we asked of them was something they could do. In August, they will be back here with backpacks and laptops ready to get after the next phase of their journey. They've grown strong and will leave a legacy of their own."
Dr. Andrew Houlihan, the Superintendent of UCPS, was thrilled to see a long-awaited day come to fruition. In his speech, he expressed gratitude towards those who have contributed to the success of Wayfind. He emphasized the valuable experiences that scholars have had with the help of mentors and school staff. These experiences included essay writing, resume building, public speaking, interviewing, college application processes, and SAT/ACT preparation, many of which were during a global pandemic. Despite these challenges, the scholars remained committed. Beyond academics, they engaged in field trips, summer camps, college visits and most recently presented at the College Board's Preparate 2023 Conference in Los Angles to share their story about the impact of Wayfind.
"I have been waiting for this moment for four and a half years. The hard work these scholars have put into this has paid off. Collectively, this group will be entering Wingate on full scholarships valued at more than $1.5M," said Dr. Houlihan. "This initiative started with the words, 'I have an idea.' That is what I said to staff and Wingate President Dr. Rhett Brown, and they were on board. Today, we celebrate the realization of an idea."
Two scholars, Tessa Stewart of Forest Hills High and Celina Tovar Castro of Monroe High, shared how the program helped them with college and life readiness.
"My highest moments include experiences like summer camp because it taught me to be ambitious," said Tessa. "Through my involvement, I learned to engage. You cannot be present sitting back and expecting good things to come to you. I learned to step in. There was one mentor who influenced a big change in my life. She showed me that if I made a commitment and poured all my energy into something I had to stick with it. She taught me the power of my voice. Zoria Hobbs taught me the power of my words and to speak up."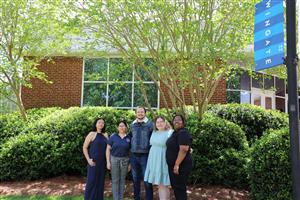 Scholars and mentors found Wayfind to be more than just for college preparation. It has been a community of support and guidance, a place where they could find encouragement and inspiration. Celina reflected on her time in the program and thanked her first mentor for teaching her to do her best. She said she was a kind soul who always had a kind word for her.
"Four years ago, I got accepted into Wayfind without knowing the importance and the opportunities it would bring me and the other scholars. Here, I am four years later, with the other nine scholars accomplishing something that will always be remembered. We are the first cohort of the Wayfind family," said Celina. "As an eighth-grader, I didn't know what college-ready meant. As a senior, I see the impact of everything that was taught to us. If it wasn't for Wayfind, I wouldn't know this campus by heart, I wouldn't have attended a conference in California and I wouldn't have the opportunity to go to such an amazing college to get a degree in elementary education."
The families of the scholars also experienced the intense emotion and significance of the day. Teresa Hernandez Salinas, the mother of scholar Ramiro Salinas Hernandez Jr. said she was proud of her son and thanked Wayfind.
"Wayfind has given them a rose garden where they can choose their path to success. I remember the day he was offered to be a part of this program. I was so happy and couldn't believe it. I knew he could do it because he is determined and intellegent," said Hernandez Salinas. "Thanks to this program, he concentrated more on his studies and gained more independence."
The Wingate mentors have also played a pivotal role in Wayfind.
"I've been a mentor for three years. I'm a psychology major so I want to work with children and adolescents. Working with these students has helped me understand what they are thinking daily. They have taught me how to be more relatable and vulnerable," said Jaida Brown. "I've seen them develop their communication, leadership and advocating skills. It has also taught them to be themselves."
Current Wayfind director Dr. Abby Holland and former director Tim Myers joined the scholars to celebrate the end of one chapter and the beginning of another.
"I've seen such a growth in these students' confidence. So much so, that I know they will flourish as university students," said Dr. Holland. "I'm excited about the foundation they've laid for the students to come."
Myers was all smiles as he reconnected with the scholars and their families. He said there was no way he would miss the ceremony.
"These scholars and their families are an extension of my family. What do you do for your family? You show up, you support and you cheer," said Myers. "Seeing this come full circle is phenomenal."
Wayfind scholars receiving scholarships and attending Wingate University in the fall include:
Monroe High
Jose Solis Bello
Alexander Jose-Sanchez
Ramiro Salinas Hernandez Jr.
Celina Tovar Castro
Alan Capote
Victor Quintanilla
Jorge Gutierrez
Forest Hills High
Carson Corley
Jordan Galindo
Tessa Stewart
Chrishaun Hough, who will finish high school at Porter Ridge High, is an Honorary Wayfind Scholar.
04/28/2023