Return to Headlines
Planting seeds of knowledge at New Salem Elementary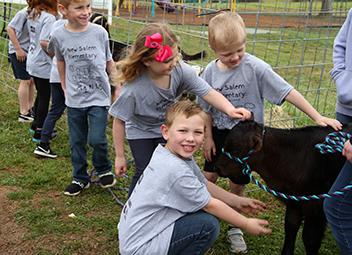 New Salem Elementary School recently had a unique opportunity to learn about agriculture firsthand thanks to parent Mandy Little, who also happens to be a farmer. The students spent a day immersed in various agricultural activities, learning about the importance of farming and its impact on their daily lives. From exploring farm equipment to planting seeds and interacting with farm animals, the students gained a new appreciation for the hard work and dedication that goes into farming.
"My husband and I are fourth-generation farmers. It's what we've known our whole life. We are fortunate enough to be bringing up our children in it. We see so many kids that have no clue where our food comes from, so it's important to educate them about agriculture," said Little. "We want to encourage them to consider an agricultural field. Maybe some of the information from today will plant a seed.
Little's daughter is pursuing a degree in agronomy, which involves the study of soil management and crop production, at Clemson University. She hopes her daughter's path inspires students to consider a career in agriculture by demonstrating that a college education and a fulfilling agricultural career can go hand in hand.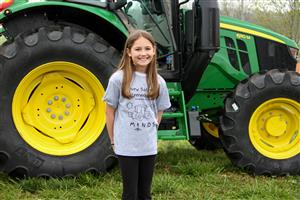 Before the event, students competed in an art competition to determine whose artwork would appear on the t-shirts worn by students, volunteers and staff. The art competition added excitement and anticipation. Many talented students submitted their entries. The winner was fifth grader Addy Pigg for her drawing of a tractor with a sun and clouds. The other entries were made into placemats.
On the day of the event, students rotated between 12 stations and explored the various sights and sounds of farming. Piedmont High's Future Farmers of America students were also on hand to help present and run the stations with the local farmers.
A scavenger hunt was part of the day, too. Students had their clipboards with a question to answer at each stop.
There were different types of animals for students to explore, including goats, a rooster, rabbits and a calf. They were delighted to see the animals and eagerly asked questions about them. They got to pet and hug some of the animals, too. At one station, they observed a demonstration of how to milk a cow and learned about turning milk into dairy products.
"I learned that cows have four stomachs and that they regurgitate when they eat, too," said Sonya Paladino, a fifth grader. "I'd love to find out more about the bees when I get to that station."
There was a lot of buzz around beekeeper and parent Andrew Gardner's observation hive. He talked to students about the importance of bees in pollination. Maggie Thomas, a former New Salem student and Clemson graduate, helped students discover the benefits of using earthworms in composting and how they help improve soil quality. Cotton, corn, wheat and soybeans were among the crops they saw and touched at other stations.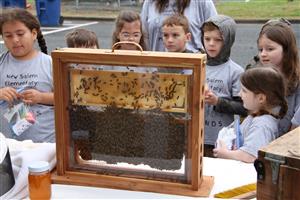 "I'm a farmer and live on a farm. I want to know more about it so I can improve how I farm. We have cows and hay on our farm," said Bo Staton, a third grader. "Days like today can help others who don't see it every day find out if it's something they want to do."
The tractors were on hand at the equipment station, where students learned about the tools used in agriculture. The presenters talked about the different types of equipment people used 50 years ago and compared them to what people use today. The students were very engaged and took everything in, showing their appreciation for the informative session.
The popcorn machine became a fun and tasty lesson, too. Students learned about the difference between popcorn kernels and other types of corn. They saw the process in action and observed the kernels popping and expanding. They got to end their lesson with a delicious snack.
"The community here is amazing! They want to reach out in every way, shape and form. All you do is ask or say we want to do this and they are on it," said Principal Kristen Sides. "Now, when students ride through our town or the country, they'll see these different types of things and make connections. They'll understand how big of a role local farmers play on a broader scale."
03/28/2023