Return to Headlines
UCPS welcomed new educators with 'New to the U' orientation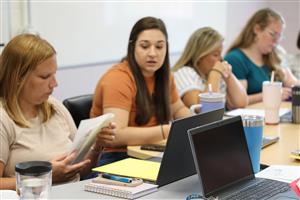 Imagine stepping into the shoes of a new educator at Union County Public Schools (UCPS) – the rush of nerves, the spark of excitement and the thrill of forging new connections. Whether they are new to teaching or new to UCPS, those emotions can be shared. From Aug. 14-16, UCPS offered them "New to the U," an orientation experience beyond the basics.
Teachers received essential tools, information and insights during this two-day orientation. It established a shared understanding among colleagues, delved into school and district policies and objectives and introduced innovative teaching methods and technology integration; all setting the stage for success.
The educators at Indian Trail Elementary went on an exciting scavenger hunt to get to know their new school. This interactive activity allowed the teachers to strengthen their connections and unify as a team. Not only did it enhance their knowledge of the school, but it also established a foundation for a collaborative and productive academic year ahead.
Ansley Dickerson, a graduate of Sun Valley High, knew she wanted to return home to teach after graduating from East Carolina University. She applied in several places and knew Indian Trail was the right fit after she toured the building. Even though Dickerson knows UCPS from her time as a student, this is her first year as a second-grade teacher. During the orientation, she appreciated getting to know experienced teachers who could offer guidance if needed.
"I was looking to work somewhere that had a family feel. Indian Trail met that criteria," said Dickerson. "The orientation has helped me feel even more welcome and comfortable."
Lindsay Griggs and Molly Byrum, who bring a wealth of experience, each had nine years of teaching under their belts before joining UCPS. They're now part of the team at Indian Trail alongside Dickerson. Griggs will teach first grade, and Byrum will teach second grade.
"New to the U has allowed me to get a lot of questions answered before I even had to ask the questions. It kicks your school year off on the right foot, so you're not coming in completely blind," said Byrum.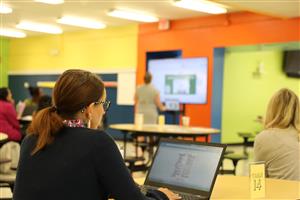 Byrum and her husband graduated from Sun Valley High in 2009, but they met each other later in life. Her husband will also work in the district as a basketball coach and physical education teacher at Porter Ridge High School. Like Dickerson, they desired a sense of familiarity.
"I did not realize how large the school was until we did the scavenger hunt. I was shocked when we had to find the fourth and fifth-grade wings to find the cafeteria. It was like, 'Oh, there is a whole other wing,'" said Byrum.
Despite her extensive teaching experience, Griggs found value in getting familiar with the school community and gaining insights into the district's operations.
"Since we have a relatively large number of people in our building, this is helping us find that person in our new group of friends to connect with," said Griggs. "Every district has its own orientation, but this has been one of the most solid ones I've had. A good introduction lets you know who you can ask questions of."
Griggs became a teacher due to her struggles with learning to read as a child. She enjoys teaching first grade because of all the "light bulb" moments her students experience and all the growth they undergo.
UCPS teachers led small group sessions for new educators from specialized areas at Central Academy of Technology and Arts, creating connections beyond their schools.
"We seek out experienced teachers and leaders within their respective buildings who understand how their department operates at their specific level. These individuals lead and facilitate the sessions," said Chris Conway, UCPS college readiness and humanities coordinator.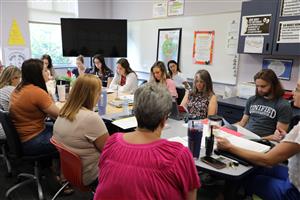 Michael Morris is a first-year Career and Technical Education (CTE) business teacher at Weddington High School. Before teaching, he worked for 34 years in business, holding leadership roles in Fortune 500 and multinational companies. His life-long dream was to teach.
"I've learned about classroom management and licensure during my session. It's been interesting, informative and useful," said Morris. "I'm familiar with the district as a parent because my son was part of the first kindergarten class to go through Weddington K-12. I saw what kind of education he got. It was appealing to give back that kind of excellent education."
Sydney Davis-Sheldon was a teacher and worked at the university level before being hired at UCPS. She will teach technology education at Weddington Middle School using Project Lead the Way. Her interest started in college when she minored in human-centered design, which is software interface design.
"In CTE, we often come from industry backgrounds, so we aren't always familiar with what comes with being an educator. They are unpacking many of the basics and the resources available, which are many," said Davis-Sheldon. "Being a teacher comes with challenges, so having that orientation that introduces you to district policies and procedures and the people around you who can support you is invaluable."
08/16/2023