Return to Headlines
Monroe Fire Department hires a 2022 Fire Academy graduate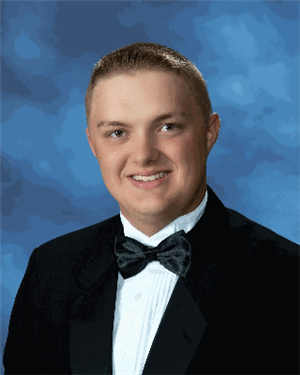 Union County Public Schools (UCPS) offers students multiple pathways to college and career readiness.
On Dec. 3, the career and technical education department will host the High School Programs Expo. The expo is for middle and high school students and their families to learn about college and career readiness programs by speaking to teachers, administrators and staff. Attendees can visit different stations to get more detailed information.
Some of the offerings include public safety, carpentry, law enforcement, architecture engineering and design, pharmacy technician, digital film editing, culinary arts, Advanced Placement (AP), Central Academy of Technology and Arts, fine arts, International Baccalaureate (IB) at Marvin Ridge High, career readiness summer camps. These and other programs offer specialized curricula that provide unique options for in-depth learning experiences in specific areas of interest. For more information, visit www.ucpscte.org.
Andrew Bessinger, a 2022 graduate of Piedmont High School, exemplifies why giving students options is vital. Andrew enrolled in the school's Fire Academy his senior year and completed all the skills and certification testing. Less than three months after graduation, he realized his dream of becoming a firefighter. Andrew's ambition was sparked by a toy fire truck given to him by his father when he was three or four years old.
"The program helps students develop leadership skills, creates a family-like relationship with their peers and gives students on-the-job training in high school," said Chad Baucom, the school's Career Technical Education Public Safety and Firefighter teacher. "I wish I had the opportunity students have at Piedmont High today when I was a student here."
The 2018-2019 school year was a big year for Andrew. He joined the Monroe Fire Department's Explorers Program and the Unionville Volunteer Fire Department's Junior Program. He also took the school's Public Safety course, which was the first step towards enrolling in the Fire Academy. Shortly after enrolling in that class, Andrew joined the after-school Public Safety Club, which ran for two years. He served as the club's training and equipment officer and later as vice president. Andrew became a full member of the Unionville Volunteer Fire Department when he turned 18 during his senior year.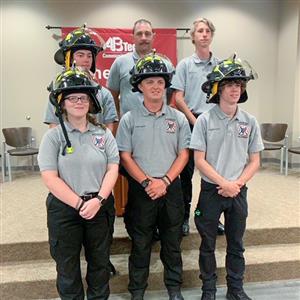 In June 2022, Baucom chose Andrew and four other students to compete in the Office of the State Fire Marshall's annual High School Firefighter Challenge. Students from North Carolina arrived at the Buncombe County Emergency Center for a week of education and skill training. For the duration of the challenge, all students were separated into two battalions. The winning battalion was announced on graduation day. Andrew was a member of the victorious unit, and everyone in it received brand-new helmets as awards.
"Andrew completed and passed all the certification skills at the Fire Academy so I felt he was a great fit to attend the challenge," said Baucom. "Andrew told me from day one in the academy that he wanted to be a fireman for the City of Monroe. He demonstrated that commitment in everything he did from start to finish."
When Baucom found out that the Monroe Fire Department was hiring, he immediately informed Andrew. With his encouragement, Andrew completed his application and written test. He was offered the position in the fire department and began his career as a firefighter in September.
CTE offers many opportunities for students to earn industry certifications to prepare them for their career pathways.
"Having these classes in high school would have jump-started my career in the fire service. The Fire Academy develops highly-trained firefighters for the surrounding fire departments. I enjoy teaching the academy students because I enjoy seeing them succeed in a field I am passionate about," said Baucom. "I currently hold the position of assistant chief at the Town of Unionville Volunteer Fire Department. I watch these students come in with prior knowledge and confidence that I lacked when I joined the department in 2002 as a senior at Piedmont."
11/30/2022