Return to Headlines
Erin Blanding's full ride to Duke University is the opportunity of a lifetime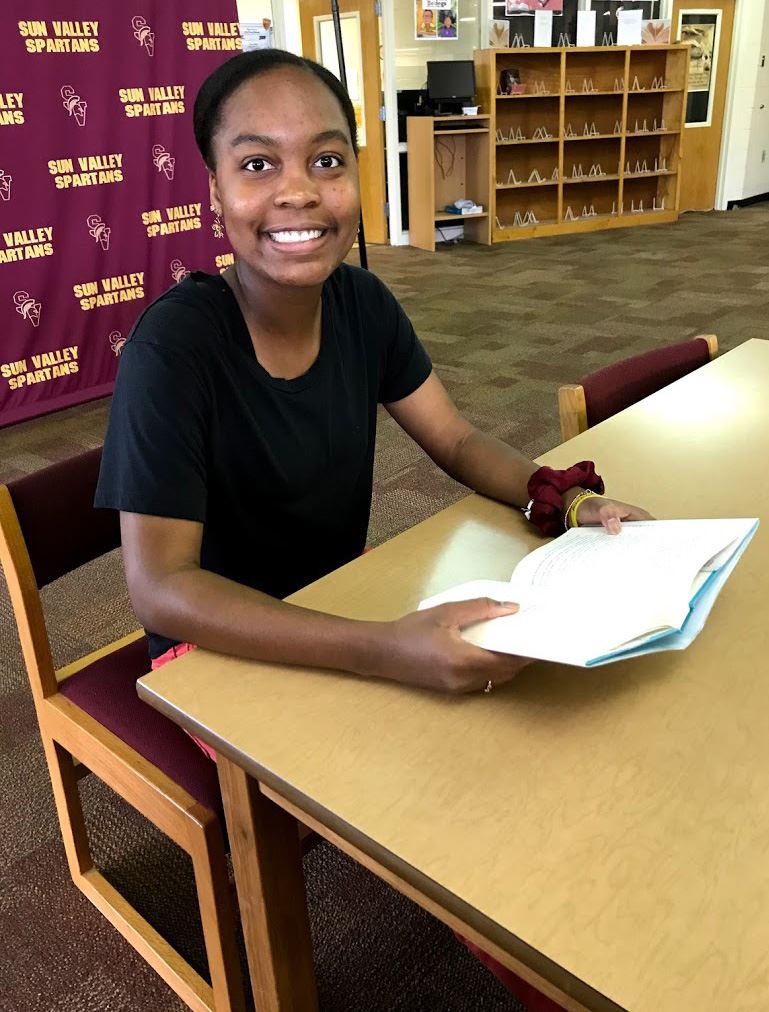 When Sun Valley High senior Erin Blanding sent out her college applications, she decided to try her luck and send one to Duke University as well. At the time, she was confident that her high school prepared her both academically and socially for any of the universities she aspired to attend.
Even so, with Duke University reporting a record-low admission rate, Erin felt like acceptance to the prestigious research university would be just out of her reach.
"At first, I only applied to Duke to see if I could get in. I thought I'd try it and see what happens," she said. "Then, in February, I got an email saying they wanted to interview me for a scholarship. So I thought, 'Wait, not only did I get in, but I also got an interview for a scholarship?' My mind was blown at that point."
The scholarship in question was the Benjamin N. Duke Scholarship program, an extremely selective merit scholarship offered to top applicants from the Carolinas who excel academically, engage their communities and aspire to become leaders at Duke and beyond.
The full scholarship covers four years of full tuition, room and board and mandatory fees as well as generous funding for domestic and international summer experiences. All applicants from North and South Carolina are automatically considered for the prestigious award, but only 10 students are selected.
After a four-day trip to Duke University -- which included an interview, tours of the campus and a stay with a current scholarship recipient -- Erin was elated when she finally received word that she would be joining the Class of 2023 as a Duke B.N. Scholar.
"I still have a hard time believing it. My parents, and I, were so excited," she said. "Being a student is hard enough without having to worry about financing your education, so I'm really grateful for this opportunity."
Reflecting on her past four years at Sun Valley High, Erin credits her success to the support of her family, friends, classmates and teachers. Since moving to the Sun Valley area from Wilmington only four years ago, Erin has already made her mark on both her school and community.
While in high school, Erin has volunteered in Sun Valley Elementary kindergarten classes. And as she watched political tension grow across the country, Erin also started the Conversation club at her school in an effort to bring students with differing political opinions and perspectives together in a space where they can have meaningful conversations with each other.
It was also in high school that Erin soared academically and really developed her love of biology, courtesy of her sophomore AP Biology teacher. That love of the sciences will follow her to Duke University this fall, where she plans to major in biology.
After that, the sky is the limit.
"I'm keeping an open mind about the future because science is so broad that you can pick and choose what you want to focus on," she said, adding that she's been mulling over a possible career as an orthopedic surgeon in the future. "When I moved to Sun Valley, I didn't know a single person, and now I feel really comfortable here -- you don't find that everywhere. I'm really thankful to everyone I've met at the school, and to my parents, for always advocating for me and preparing me for college and life after high school."
Now, Erin said, she's ready to take that support and experiences gained with her as she moves on to Duke University for the opportunity of a lifetime.