Return to Headlines
Countdown to Kindergarten: Here's what you need to register your student for kindergarten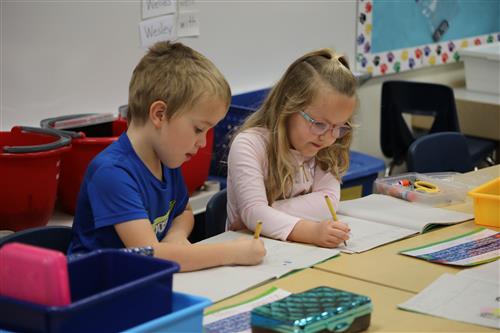 UCPS kindergarten registration begins in less than three weeks!
If you plan to enroll your student for the 2020-2021 school year, now is the time to start gathering the documents you will need to complete the registration process.
Beginning Feb. 3, you will have the opportunity to register your student for kindergarten at their elementary school. To identify which school your child will attend, visit our Edulog School Assignment Finder on the UCPS website.
Please note that all parents should register their children at their current assigned school.
Please make sure to bring the following items with you when you register your student:
Your child's birth certificate to verify he or she will be five years old on or before Aug. 31. Birth certificates can be obtained from county officials in the county where your child was born.
A certified copy of your child's immunization record that includes a doctor's signature or a clinic's stamp as proof the vaccines were given.

The following immunizations are required by law before the first day of school:

5 DTaP/DT shots (a fifth dose is not required IF the fourth dose was given after the child's 4th birthday)
4 Polio shots – IPV (a fourth dose is not required IF the third dose was given after the child's 4th birthday and was given at least 6 months after dose #2).
2 MMR shots (the first dose should be given on or after the child's 1st birthday, with the second dose at least 28 days later and before entering school)
3 Hepatitis B shots (the third dose must be given after the child is at least 24 weeks old)
HIB shots (at least one given between a child's 1st birthday and his or her 5th It is not required after age 5)
2 Varicella shots - Documentation of disease must be from a physician, nurse practitioner, or physician's assistant verifying history of varicella disease. Documentation must include the name of the individual with history of disease, approximate date or age of infection, and a healthcare provider signature.

Two documents that provide proof of residence from the following list:

A notarized rental agreement or purchase agreement on a residence
Utility bills (telephone, gas, electricity) that list the correct name and address
A driver's license and automobile registration
An automobile insurance policy
A property insurance policy
An income tax W-2 form
A property tax

A health assessment form, which should be completed no more than 12 months prior to the day of school entry. The parent, guardian, or responsible person shall have 30 calendar days from the first day of school to present the required health assessment transmittal form for the child. The health assessment transmittal form is available online and at any school.
For more information about kindergarten enrollment, please visit the UCPS Kindergarten Registration webpage.