Return to Headlines
UCPS students outperform state and national peers on PSAT exam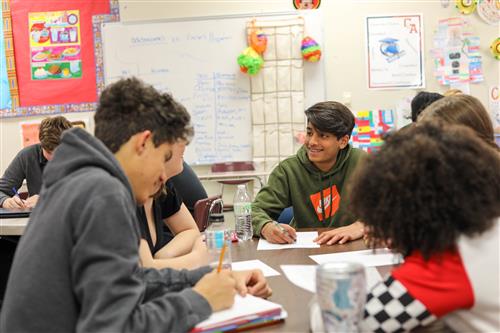 During the fall of 2019, UCPS sophomores and juniors outperformed both their state and national peers on the PSAT exam. This marks the third consecutive year UCPS students' average PSAT score has continued to rise even as thousands more students have taken the exam.
"In 2017, UCPS began to offer free, in-school PSAT and SAT exams to our students. This is important because we're not only expanding access to the exams but we're also breaking down financial and transportation barriers for students who otherwise may not have been able to take these exams," said UCPS Superintendent Dr. Andrew Houlihan. "This is just another step in the right direction for our school district in terms of making sure our students are college and career ready."
For many students, the PSAT is the first time they have the chance to take an exam similar to the SAT under official, timed conditions. PSAT results give students an idea of how they may score on the SAT or ACT if they were to take the tests with no additional practice or preparation.
In the fall of 2019, as many as 3,231 sophomores throughout the school district took the PSAT during the school day at no cost to their families. This number is in stark contrast to the 305 UCPS sophomores who took the PSAT in the fall of 2016.
Even with the significant increase in the number of students participating in the PSAT exam, UCPS sophomores surpassed state PSAT averages for their peer groups. UCPS sophomores' average PSAT score outperformed their peer group nationally by 45 points.
Additionally, nearly half of all UCPS sophomores met or exceeded benchmarks on both evidence-based reading and writing and math. This is 12 percentage points higher than the current national average for this group.
But UCPS students' success on the PSAT didn't end there.
During their junior year of high school, particularly strong PSAT scores provide students with the opportunity to earn scholarship money to help defer the cost of college.
For the second consecutive year, the PSAT was administered 396 UCPS juniors who identified as first time PSAT test-takers, students who scored in at least the 90th percentile on the PSAT as a sophomore or students who qualified for a fee waiver.
UCPS juniors earned an average PSAT score of 1239, which is an increase of 23 points over the UCPS average in the fall of 2018.
UCPS juniors also outperformed their state peers by 219 points and their national peers by 235 points.
Eighty-nine percent of juniors who took the PSAT met or exceeded math and evidence-based reading and writing benchmarks, outperforming both the state and national averages by more than 40 points.
"The PSAT is important for our sophomores and juniors because it further prepares them for the future -- particularly when they take the SAT, which we provide at no cost to 11th graders. Schools also use these scores as an additional data point for course placement for our students," said UCPS Director of Research and Accountability Dr. Jonathan Tyson. "This initiative is just an additional way that we are breaking down barriers for all of our students."
Want to learn more about UCPS College Readiness Programs?
Visit the UCPS College Readiness and Innovation webpage to learn more about college readiness resources designed to support UCPS students.