Return to Headlines
More than 'just a driver': UCPS bus driver Carol Keeter makes lasting impact in students' lives
In celebration of National School Bus Driver Appreciation Week, UCPS thanks all of our dedicated bus drivers for their commitment to our students.
From morning pickup to afternoon dropoff, our UCPS bus drivers, like Carol Keeter in the Porter Ridge cluster, are making an impact in the lives of our students every single day.
---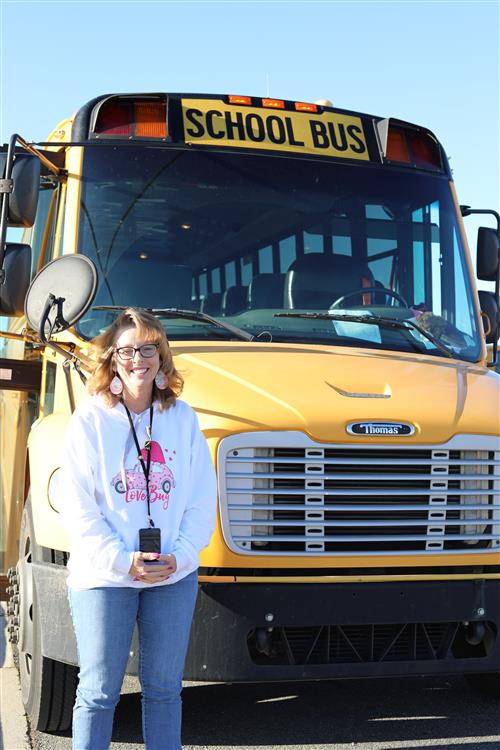 For the past 13 years, Carol Keeter has started most of her days driving more than 60 UCPS students to and from school.
She's watched as the tiny kindergartners who used to give her hugs before skipping off the bus have matured into high school seniors, and she's spent years cultivating a close bond with not only those students but also their entire families.
It's a job that Keeter says extends far beyond simply driving a bus around the community. Being a bus driver, she said, allows her to make a significant impact in the lives of students and families in the Porter Ridge cluster.
"The kids are the best part of this job because they're just so loving," she said. "I have students who have already graduated still come up to me and give me a hug when they see me out in the community. When they do that, it just gives me a warm and fuzzy feeling that lets me know that I did something right, that I was there for them and that they know that I will always be here to help them in any way."
With each passing year as a bus driver, that love for those students has only grown -- ultimately leaving Keeter to brainstorm additional ways she could be of service to not only the children but also their families.
Several months ago, Keeter came up with the perfect idea to make an even bigger impact in her community.
With the help of school counselors throughout the Porter Ridge cluster, Keeter was able to identify seven families at each school that the Porter Ridge cluster bus drivers could sponsor during the holiday season.
The goal was to not only sponsor the child in the family. Her goal was to make the holiday season a bit brighter for every person in the child's family.
After Keeter talked to her colleagues, they were all immediately on board.
All of the Porter Ridge bus drivers are so giving, Keeter said, and love the children as one of their own. Convincing them to provide gifts and food to one family from each school didn't take much work.
"We provided food and wish list items for every single person in each family, as well as at least a month's worth of meals for each family," she said. "By the time we finished, it was unbelievable. We had a busload of gifts and we went to every school and dropped off what their families were receiving. To have the opportunity to do something like that was just amazing."
Moments like that – when she's able to make even more of an impact on the children and families in her cluster -- are why Keeter said she loves being a bus driver.
After all, she said, being a bus driver is more than just picking up kids and dropping them off.
"There's more to being a bus driver than just driving. We're a driver, mother, counselor and nurse. We're everything wrapped up into one while we're dealing with traffic, navigating the roads and keeping our kids safe," she said. "You know when they're sick, you know when they've had a bad morning or a bad day – it's just like having 60 children of your own. What we do is extremely important."
When asked if there was anything that she hopes the students take away from her brief time with her every day, Keeter said she hopes they realize just how much she truly cares for each and every one of them.
"I want to keep them happy and safe any time they're with me," she said. "At the end of the day, I want every child on my bus to know that I love them and I'd do anything for them. That's my goal."