Return to Headlines
Weddington Elementary parade helps teachers safely visit students during the school closure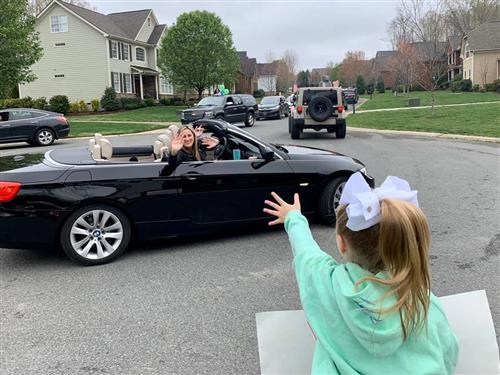 From hosting virtual storytime sessions to live-streaming morning announcements through social media, UCPS teachers and administrators are proactively taking advantage of virtual platforms to stay connected with their students during the current school closure.
After more than a week without seeing their students, a group of Weddington Elementary teachers also found themselves wanting to make those connections as personal as possible. So they began to brainstorm creative ways they could see all of their students face-to-face while also adhering to CDC and state social distancing guidelines.
Less than 24 hours later, the idea for a Wildcat Parade was born.
At 10 a.m. on March 24, and with assistance from the Union County Sheriff's Office and Wesley Chapel Fire Department, Weddington Elementary teachers lined up in their cars and drove through three nearby neighborhoods to wave at students as they stood outside of their homes.
"While technology is wonderful, that in-person relationship is still important to maintain in these times of uncertainty," Weddington Elementary Assistant Principal Banks Spicer said. "As we drove through the neighborhoods, every other house had a child standing on the porch, or in the front yard or in the driveway. Children were cheering, parents were crying and teachers were crying tears of pure joy to see them. It just showed how much we love each other."
It was that moment, Spicer said, that she was able to witness the true strength not of just her community but of the entire school system.
Every UCPS school has found a creative way to connect with their students, Spicer said, and it's clear that they all share the same goal of prioritizing the well-being of their students and staff.
In the coming weeks, Spicer said they will continue to take things day by day and adjust accordingly. She looks forward to sharing what their school is doing on social media, while also following other schools to learn how they're connecting with students.
"If there is one thing that's clear, it's that these Union County teachers are not stopping. The creativity, fearlessness and determination to make this work, and make it as seamless of a transition as possible, is amazing," she said. "This is not a sprint, this is a marathon, and collectively we are working so hard to find ways to keep this momentum going. Academics are absolutely important, but the emotional well-being of our children will always be at the forefront for all of us during this time."