Return to Headlines
#ThankYouTeamUCPS: UCPS celebrates Teacher and Staff Appreciation Week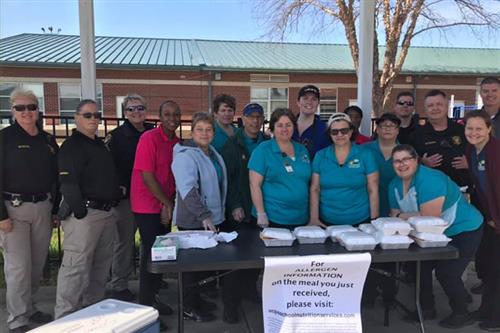 As UCPS celebrates Teacher and Staff Appreciation Week, we're highlighting just a few of our teams who contribute to the success of our students, staff and schools.

Check out the bios below to learn more about how our School Nutrition Services, Student Support, Academics and Technology teams are hard at work connecting students and staff to resources every day.
Want to see the other ways we've been celebrating #TeamUCPS all week long?
First, view this digital wall that features shout-outs to district employees. Don't forget to leave your own message for a UCPS staff member!
Then, visit our Facebook, Instagram and Twitter pages to view posts, photos and videos of virtual Teacher and Staff Appreciation Week celebrations throughout the district.
---
School Nutrition Services
Since March 17, UCPS School Nutrition Services team members have been hard at work serving more than 140,000 free meals to children in Union County. At four distribution sites – Rocky River Elementary, Sardis Elementary, Health Sciences Academy at Monroe Middle and Wingate Elementary – they are smiling and friendly faces that families can count on five days a week, rain or shine.
That sense of comfort is critical, said School Nutrition Services Manager Lisa Thompson, as it may provide children with a sense of normalcy during times when it may feel as if the world around them is rapidly changing.
"We come in each morning and have a meeting to discuss the plan of action for the day. Some of us are coming from schools that served less than 200 students and now we're serving more than 700 lunches and snacks daily," Thompson said. "Each day is built around one goal, which is to feed our children a nutritious meal with a smile. I believe we accomplish that every day."

Student Support
The Student Support Services team is committed to promoting the physical, social and emotional well-being of students, families and community members – and that work doesn't only happen when school buildings are open.
In recent weeks, staff members such as SEL Coordinator Tracey Carney have been working behind the scenes to provide support and a helpful perspective to various departments as they navigate through the school closure with students. Another big push for the team, Carney said, is offering support to teachers on how to cope with work, create instruction in a new way and balance their lives.
Additionally, the team regularly connects students and community members to much-needed mental health resources during the school closure via their U Matter in UCPS Facebook, Twitter and Instagram accounts.
"We're focusing on how we can not only meet the needs of our students, staff and parents right now, but what can we do to be proactive and assist with the transition in the future," Carney said. "We're giving out resources as much as we can. If a student isn't in an emotionally stable place, they won't be ready to learn or understand complex things. In a time of crisis, it's really important for people to know they're not alone. Ensuring the mental well-being of people is critical for our team."

Academics Team
During the past few months, the Academics team has been hard at work helping teachers integrate online tools and digital resources into the remote learning content they are preparing and delivering to students.
In recent weeks, teachers and support staff have completed more than 15,000 professional development online modules provided by the Academics team on topics such as analytics and data, independent research, Dreambox, iReady, Canvas and more. The amount of what teachers are learning right now is not just astounding, Director of EdTech and Innovation Casey Rimmer said – it's completely unprecedented.
"Every teacher's needs are unique and varied. Professional development opportunities are paramount to shifting our practices to adapt to the remote learning environment," she said. "Teachers and staff are incredibly selfless. They are not learning for themselves - they're learning for their students. Change is hard, but every teacher in UCPS wants to be better for their students. The professional development modules are coming alive in remote teaching, and it's so heartwarming to see it in action."


Technology Team
As 41,000+ UCPS students and thousands of staff members quickly transitioned to a remote working and learning environment, the UCPS Technology Team was the driving force behind the scenes ensuring as smooth of a transition as possible.

In recent weeks, the Technology department has been hard at work repairing and distributing Chromebooks and staff laptops, providing hotspots to resolve connectivity issues, ensuring students and staff can connect to digital resources online and more. It's a huge undertaking that is made as seamless as possible by the dedicated team members who work tirelessly to troubleshoot problems, provide customer service to students and staff, and proactively identify potential problems and improve services for the future.
"We are supporting all instruction in Union County. Without connectivity or a device to work, our students are hindered from learning and staff may be hindered from delivering services," UCPS Chief Technology Officer Jay Parker said. "Our goal is to ensure that there are useful devices and we have connectivity for students and staff until the last day of school on June 9."