Return to Headlines
Music teacher Maegan Sloan connects with students every day with a "Moment of Music"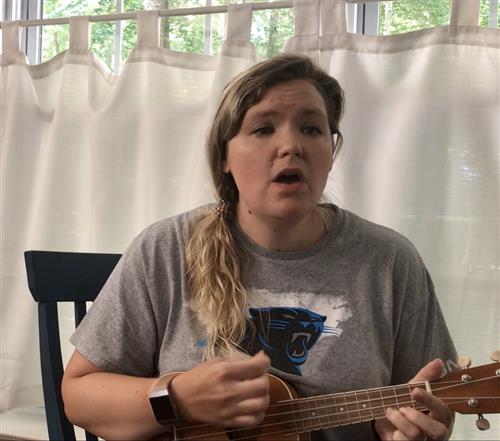 During the school year, UCPS music teacher Maegan Sloan divides her time between Fairview and New Salem elementary schools, fulfilling her passion of sparking a love of music in young students.
So when schools across the state closed in mid-March due to COVID-19, Sloan immediately began to search for any way she could continue to connect with students during the remainder of the school year.

However, finding a way to engage with very young students at two different elementary schools in different areas of the county initially presented Sloan with a unique challenge during the first few days of the school closure.
That's when Sloan said she came up with the perfect solution: A Moment of Music with Mrs. Sloan.
"I decided to create an educational Facebook page because Facebook has been so helpful when communicating with parents," she said. "It's a seamless way for parents to be a part of the process because they're the ones who have been sharing the content, watching it with their children and leaving comments on behalf of their children."
Since the school closure began, Sloan has created more than 30 music education videos. Each day has a theme: there are dance parties, videos about the history of music, innovative ways to play music around your home, kid-friendly podcasts, etc. There's also an interview with an opera singer, "Technology Days" that encourage students to use digital tools to create music and more.
With a focus on music history, reading music and matching pitches, the daily videos adhere to curriculum standards and mirror content that Sloan would have presented to students during her in-person classes.
It's a fun way to help students maintain a sense of normalcy during the school closure and stay engaged with lessons. Seeing the daily comments from parents telling her how much their children enjoy the videos keeps her motivated to continue to post new content every weekday.
"Young students need some kind of normalcy and to see a familiar face. At the end of every video, I make sure to remind the students that their teachers are still thinking about them. It's so important for them to know that," she said. "Even if they don't learn any actual music information from this, I want them to know that as their teacher I do think about them every day. I want them to know that I care about them, I miss them in the classroom, and I really want the best for them while they're at home."
Want to check out Sloan's daily lessons? Click here to visit the Moment of Music with Mrs. Sloan Facebook page.