Return to Headlines
UCPS and Monroe Parks & Rec team up to remove barriers for learning
For many families, remote learning has been a challenge. But with every challenge, there is an opportunity.
During the summer of 2020, Union County Public Schools and the City of Monroe discussed how to improve barriers for families with internet challenges. The city offered to open four of its recreation sites to give students a safe, supervised and comfortable space for virtual classes.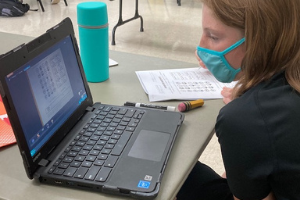 "It was hard because we weren't able to do our work on our computers like we were supposed to," said Lydia Casteen. "So we had to go to the library to do our work."
With Union County Public Schools implementing a hybrid of in person and online classes because of the COVID-19 pandemic, parents and students are adapting to a new schedule.
Lydia, a seventh grader, says unreliable internet connection at home combined with distractions made remote learning difficult at times.
Now, she has found a comfort zone for remote learning at the city's Sutton Park Recreation Center.
"You have more time. You can do your work here. And it's more peaceful because when you have siblings at home with you they can sometimes make you get distracted and stuff while you're doing your work" said Lydia.
Each weekday, about 80 UCPS students who live in Monroe attend classes at four recreation centers in different neighborhoods.
City officials say the goal is to provide structure and better remote learning space.
"Most parents just have a need. They have a need for an opportunity for their kids to come to a controlled supervised environment," said Ryan Jones, Center Programs and Facilities Operations Director. "And then a lot of other families don't have consistent access to WIFI. That's the main thing that we were trying to accomplish – is providing that space for consistent WIFI so they're not having trouble accessing their assignments."
Jones says UCPS is also assisting with technical support and making sure each recreation center has consistent WIFI access to accommodate the number of students at each center.
Jones says the recreation centers follow all state guidelines for sanitizing, social distancing, face covering and health screening, including taking students' temperatures at the door.
"Family units can sit together at tables but all of our tables are separated six feet apart. If they do share a table, they're on opposite sides of that. All of our lunches and snacks are pre-packaged and we clean every hour or after any use of the tables" said Jones.
"I participate in live meetings. I watch videos, paperwork and I do my assignments that are assigned for me," said the Parkwood Middle School student. "I can see other people who my teachers have assigned to help me do my work. And sometimes other students can help me by g-mailing me if we're allowed to do that."
The city of Monroe says the vision is to provide an opportunity so local students can keep up with their studies away from the classroom.
"We've seen the success and benefit early," said Jones. "We'll continue to provide this partnership as long as we can."