Return to Headlines
Western Union Elementary wins grant to bring solar educational projects to students
If Kristi Williford has her way, her school will be unique among Union County Public Schools (UCPS). Williford, principal of Western Union Elementary, is on a mission to make it the only school in UCPS with a solar panel.
"It's going to enrich the curriculum," said Williford. "It's going to engage kids because, even within Union County, there are a lot of solar panel farms coming. So, just being able to give them that knowledge of what it can do for you, when it's useful, and when it's not useful."
Williford and teachers are working to add more environmental education to Western Union Elementary. "Last year we built an outdoor garden. We're really trying to build our teachers' capacity to find ways to engage students utilizing the outdoors," and she believes this is the perfect time to introduce solar education to her K-5 students. "I think we have to start young giving students the opportunity to know what is out there. Starting at this age, they learn about energy. That's one of the science units. And power."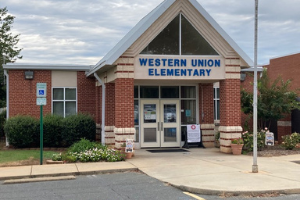 How does a school get a solar panel?
NC GreenPower Solar+ Schools is a program that brings solar educational projects to schools.
Schools have to apply for one of NC GreenPower's matching $27,000 grant that will install an educational solar photovoltaic (PV) array. Schools also receive $14,000 in related benefits, including modules, a STEM curriculum, and teacher training.
Earlier this year, a team of teachers at Western Union Elementary applied for, and won, one of the matching grants.
Western Union Elementary is one of 10 North Carolina schools that won the solar panel. It's the only school in Union County.
"The team of teachers who helped write it was very excited because we just weren't sure," Williford said. "We didn't know what to expect."
Winning was the first hurdle.
Because it's a matching grant, the school has to raise $12,000.
Now comes the second hurdle. How do you raise $12,000 during a pandemic?
Williford says Union Power donated $6,000. The school is trying to fundraise the rest of the money, but the clock is ticking. If Western Union Elementary doesn't raise its matching funds, the school will lose the solar panel.
Normally, parents willingly give money to help Western Union Elementary pay for educational projects. The COVID-19 pandemic has cast a pall over fundraising efforts for the solar panel. Parents are reaching out to businesses, hoping one or several will donate and form a partnership with the school.
Optimistic that the fundraising will succeed, Western Union Elementary already has some ideas about where on the school campus they would put the solar panel.
Teachers are visualizing it inside the outdoor garden or just outside the fence that's around the garden. Another possible location could be on the building.
The location is a hurdle Williford would be happy to face.
Click here to donate to Western Union Elementary fundraising efforts.