Return to Headlines
Wendy Nielsen is named Nurse Administrator of the Year
When you hear the name Wendy Nielsen in Union County, you immediately think of someone who has dedicated their life to caring for students and staff in Union County Public Schools.
With solid experience as a school nurse and school nurse administrator, Nielsen has been on the front lines of school health for nearly 20 years, but this year has been like no other. 2020 has come with many surprises for Nielsen, including a special announcement from her colleagues.
Nielsen, RN, MSN, NCSN and school nurse supervisor for UCPS, has been named the 2020 School Nurse Administrator of the Year by the School Nurse Association of North Carolina.
"I am so proud of Wendy for earning this award," said Superintendent Dr. Andrew Houlihan. "She is extremely passionate about her job and she leads with integrity, humility and confidence. We are very fortunate to have her on our team."
UCPS nurses collaborated on the nomination for Nielsen and had no trouble bragging on her leadership skills. She was commended for managing a top-notch school nursing program, communication, offering consistent educational opportunities, community involvement and resilience during the COVID-19 pandemic.
"I am honored to win this award, but this is truly a reflection of our team," Nielsen said. "Our nurses are fantastic and I am proud to represent them and Union County Public Schools."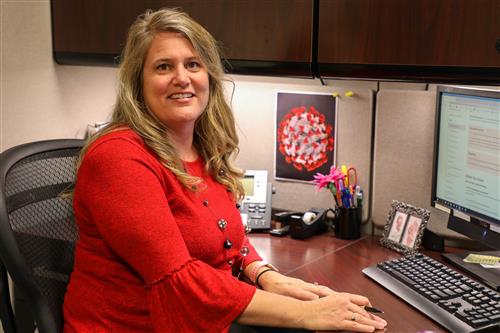 When schools closed in March due to the Coronavirus, Nielsen was an essential part of developing and managing the Union County COVID-19 Hotline. She also served as a vital member of the emergency operations center with Union County Health Services. She and several UCPS nurses staffed the hotline weekly for eight hours a day and answered questions from citizens.
Nielsen also coordinated the UCPS COVID Helpline for employees and developed strategies and protocols to support staff as schools and offices reopened.
"Wendy deserves this award and we are extremely proud of her achievements," said Assistant Superintendent for Student Support Services Jarrod McCraw. "I know the sacrifices she makes for our students and staff. She is an exceptional leader and I join the school nurses in celebrating her work."
Nielsen is a member of the School Nurse Association of North Carolina and the National Association of School Nurses.
In addition, she is a member of the Fostering Health Collaborative with the Department of Health and Human Services and is chair of the School Health Advisory Council for UCPS.
Nielsen is also a member of Thrive, an organization that brings awareness to poverty in our community. She also serves on several committees to identify gaps in areas of health care, transportation, green space and access to fresh food. She also serves on the UCPS Safety Committee.
Nielsen will be honored at the School Nurse Association of North Carolina's annual meeting in December.
Published November 12, 2020