Return to Headlines
Wayfind Program continues to create pathway to college for middle and high students
The COVID-19 pandemic has not stopped key partnerships from helping students in Union County Public Schools (UCPS). The Wayfind Program is moving forward with preparing middle and high school students for college and providing mentors to help throughout the journey.
Through this first-of-its-kind partnership in UCPS, we are pleased to announce that 40 new scholars from East Union Middle and the Health Sciences Academy at Monroe Middle were inducted into the program Feb. 8 via a virtual celebration.
Family members, UCPS and Wingate University staff and senior leaders, and Board of Education members attended the program to officially welcome the scholars. Due to the COVID-19 pandemic, an induction program was not held in 2020.
The Wayfind team noted that more than 70 students applied for the program, the highest number in its history. Wayfind began with 20 scholars in 2019 and now has 56 total representing the classes of 2023, 2024 and 2025.
"This has been an amazing journey," said Superintendent Dr. Andrew Houlihan. "Congratulations to our Wayfind scholars. We are very proud of you and our commitment to you and your family is that you will always get the support you need."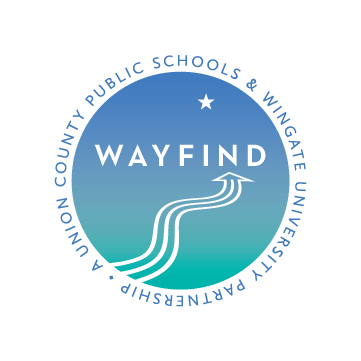 In 2019, UCPS and Wingate University established Wayfind, a free college-access program with a foundation in mentorship. Students from Monroe High and Forest Hills High who successfully complete the program are eligible to receive a four-year, full tuition scholarship to Wingate University.
"One thing I learned about myself through Wayfind is that I can actually do anything I want if I put my mind to it," said Celina Tovar Castro, a 10th-grader at Monroe High School."
Each year, 20 eighth graders from East Union Middle and the Health Sciences Academy at Monroe Middle are selected to participate. After an application period and selection process, students are assigned a mentor from Wingate University.
Over four years, students participate in a variety of courses and activities including a summer camp, college planning and life skills classes, SAT and ACT prep lessons, college visits and more.
The Wayfind team produced a video and spoke to students and parents from the first cohort. Click here to witness how Wayfind has influenced study habits, time management skills, self-confidence, character and more.
For more information on Wayfind, visit https://www.wingate.edu/wayfind or follow @WayfindProgram @UCPSNC on Twitter and @Wayfind_Program @UCPSNC on Instagram.
Published February 10, 2021