Return to Headlines
UCPS celebrates bus drivers and transportation staff
Union County Public Schools (UCPS) is thrilled to honor and celebrate our hard-working bus drivers and transportation employees during Love the Bus Month. These special individuals work tirelessly throughout the week to ensure students' safety riding the bus to and from school.
Feb. 8-12, 2021 was School Bus Driver Appreciation Week as proclaimed by North Carolina Gov. Roy Cooper. Every day in North Carolina tens of thousands of school buses carry hundreds of thousands of students to and from school.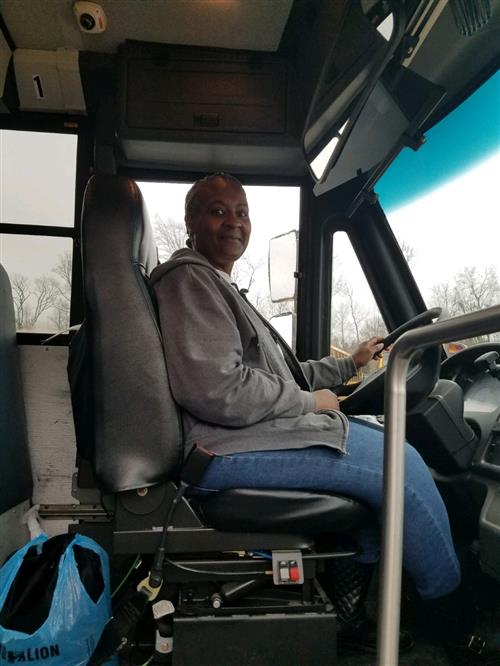 Last week, UCPS celebrated our amazing bus drivers by providing breakfast and posting videos and appreciation notes from students, teachers, and staff from throughout the district on our social media pages.
A UCPS school bus driver's day starts early, drivers must be at assigned locations by 5:30 a.m., for their pre-trip and to get their buses warmed-up and by 5:45 a.m./6 a.m., their en route to pick up students and by 7 a.m. dropping elementary students off at school, then high school and middle school routes. Drivers complete the morning route by 9 a.m., then return at about 1 p.m. to 4 p.m. (sometimes later), for the second part of their workday.
Marion Teal, a bus driver in the Sun Valley area has been with the district for four years and says the best part of her day is, "Knowing that I'm coming to a place that I really enjoy, and seeing the kids' faces when I open up the doors in the mornings. That really makes me happy."
One of Marion's fondest memories as a bus driver is when a student told her that she bought a teal-colored backpack because Marion was her favorite bus driver.
Marion also drives for the Wi-Fi bus program with UCPS. This initiative allows students with unreliable Wi-Fi during remote learning to have internet access. As part of ongoing efforts to make sure students can work in a remote environment, UCPS parks 15 buses in several Monroe neighborhoods. Students can access the buses from 9:30 a.m. to 12:30 p.m., Monday – Thursday, and 7:30 a.m. to 2:00 p.m., on Friday.
She also drives a bus for the Saturday camp at Walter Bickett Elementary School. Designated for students in Kindergarten through fifth grade, the purpose of the camp is to provide students with resources around social and emotional learning as well as engaging in fun activities to support math and literacy skills.
"Our folks a lot of times are the biggest role models that these kids interact with. It's fantastic to be a part of something that is so impactful to student's lives, and I really appreciate our drivers for the roles they play and for the contributions they make. It goes far beyond driving them to and from school," says Scott Denton, the director of transportation for UCPS, who started driving a school bus when he was just 16 years old in Franklin County.
Click here to leave a note of appreciation for our UCPS bus drivers.
Published February 15, 2021