Return to Headlines
UCPS Spelling Bee champion Alexia Vega-Franceschi wins title for third year in a row
Alexia Vega-Franceschi, a fifth grader at Sandy Ridge Elementary is the Union County Public Schools Spelling Bee champion for the third time in a row. Due to COVID-19 safety protocols, this year's competition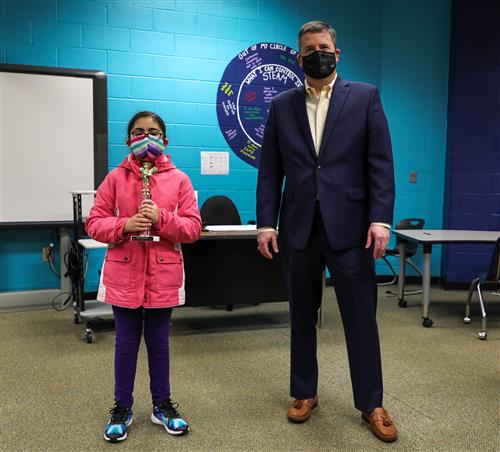 was held virtually on Friday, Feb. 19, 2021.
"We're very proud of her," said Tracey Kerstetter, Principal at Sandy Ridge Elementary. "I can't wait to see her move forward, she's got the talent."
Participating in the annual Spelling Bee competition runs in the Vega family, Alexia's older sister Eva was a previous spelling bee champion for the district.
"Not many people can say that they are a three-time champion. She's an amazing student. We're all very proud of her and her efforts and we want her to go all the way to D.C., to the national bee," said UCPS Superintendent Dr. Andrew Houlihan.
As for preparation for the spelling bee Alexia, says that she studies the list of words provided by the school and writes out the words that give her trouble. She also studies throughout the year in preparation for the competition.
Alexia made it through 10 competitive rounds with "Asyndeton" as her winning word. The definition of Asyndeton is: omission of the conjunctions that ordinarily join coordinate words or clauses, ex.: (as in "I came, I saw, I conquered").
When asked what her favorite word is she quickly responded "probably potato," Alexia is a fan of the vegetable and enjoys French fries and tater tots.
Alexia is showing no signs of slowing down, as she plans to compete again next year. She will represent UCPS at the Regional Spelling Bee at the end of March.
Click here to listen to Alexia in her own words on what it feels like to be a three-time champion and why she loves to spell.
Antioch Elementary student, Pranav Premkumar won first-runner up and Marvin Ridge Middle student, Sreethan Gajula won second-runner up in the competition. Great job to and all the UCPS Spelling Bee participants.
Please see the chart below for a list of students who participated in the UCPS Spelling Bee:
2020-2021 School Spelling Bee Winners
| | |
| --- | --- |
| Name: | School: |
| Pranav Premkumar | Antioch Elementary |
| Jahaira Sandoval-Zepeda | Benton Heights Elementary School of the Arts |
| Janvi Patel | Cutherbertson Middle |
| Leyma Saquich -Hernandez | East Elementary |
| Destini Howell | East Union Middle |
| Scott McCullough | Fairview Elementary |
| Diego De-Jesus | Health Sciences Academy at Monroe Middle |
| Effie Ghansah | Hemby Bridge Elementary |
| Anu Sibu | Indian Trail Elementary |
| Stephanie Jarical | Kensington Elementary |
| Alijah Allen | Marshville Elementary |
| Savir Savant | Marvin Elementary |
| Sreethan Gajula | Marvin Ridge Middle |
| Nayla Hill | New Salem Elementary |
| Karleigh Arnold | New Town Elementary |
| Slade Crowder | Parkwood Middle |
| Carsten Cooper | Piedmont Middle |
| Harper Caskey | Poplin Elementary |
| Brihanna Ashcraft | Porter Ridge Elementary |
| Aden Eugenio | Porter Ridge Middle |
| Lyla Sheppard | Prospect Elementary |
| Hampton Tolbert | Rea View Elementary |
| Jacob Castillo | Rock Rest Elementary |
| Jacob Moore | Rocky River Elementary |
| Alexia Vega-Franceschi | Sandy Ridge Elementary |
| Cristopher Macedo | Sardis Elementary |
| Brady DeBrand | Shiloh Valley Elementary |
| Vasili Poulos | Stallings Elementary |
| Brianne Newman | Sun Valley Middle |
| Noah Knight | Union Elementary |
| Maggie Furr | Unionville Elementary |
| Desmond Robertson | Walter Bickett Elementary |
| Graham Baltmiskis | Waxhaw Elementary |
| Riyansh Akepati | Weddington Elementary |
| Abhijay Amujuri | Weddington Middle |
| Addison Webb | Wesley Chapel Elementary |
| Maelle Toomey | Western Union Elementary |
| Brianna Strunk | Wingate Elementary |
Published February 22, 2021