Return to Headlines
Rocky River Elementary is the 2021 Books and Brackets champion
For the past several weeks, third, fourth and fifth graders in Union County Public Schools (UCPS) participated in the fifth annual 2021 Books and Brackets reading challenge.
Due to COVID-19 restrictions, the district was not able to hold its normal celebration at Wingate University with all Elite 8 third-grade students, teachers and special guests. Students, staff and parents watched the abbreviated program via Facebook Live.
During the challenge, which is likened to the March Madness basketball competition, students spent their days and nights immersed in books as the playing field narrowed down each week to the Sweet 16, Elite Eight and Final Four.
The Final Four principals had the opportunity to participate in the March 31 celebration at Wingate University, where they danced, cheered and showed their school pride.
The fun-filled celebration featured remarks from Superintendent Dr. Andrew Houlihan and Dr. Rhett Brown, President of Wingate University.
In addition, a few of the university's basketball players took to the court to showcase their skills. And of course, the school mascots put on their dancing shoes to see who had the best moves.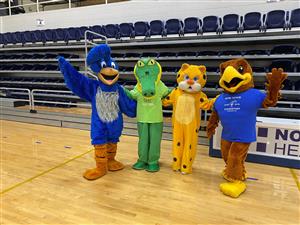 Finally, amid the excitement, Rocky River Elementary was named the winner of the 2021 Books and Brackets reading challenge.
Rocky River Elementary Principal, Sherry Richardson was presented with a $5,000 check for literacy initiatives and programs at school.
"We are so proud of all of our students, and our teachers who encourage them, and their parents who had them reading as much as they possibly could. It's so important to build that lifelong love of reading," said Richardson.
Rocky River Elementary fifth-grade teacher, Sabrina Parra attended today's event as the school's signature road-runner mascot. "We try to teach students that books can take them to so many places. So even if you can't go somewhere right now, if you're reading a book it will take you to that place."
Tom Childers from Antioch Elementary, Cathy Perry from New Town Elementary, and Dr. Sharyn VonCannon from Unionville Elementary, whose schools reached the Final Four level of the competition, each received $1,500 for literacy initiatives and programs at their school.
UCPS third, fourth and fifth graders cumulatively read about 7.4 million minutes in this year's challenge, which roughly translates to over one hundred and 123,000 hours.
During the celebration, UCPS Superintendent Dr. Andrew Houlihan said he was very proud and extremely impressed with the number of minutes read by students during this year's reading challenge.
UCPS would like to thank the following businesses and community organizations that supported Books and Brackets in 2020 and 2021. The proceeds will benefit take-home libraries and funds to support school literacy programs.
Fifth Third Bank
Union County Education Foundation
Union County Chamber
Publix
Goulston
Print Management Group
Renaissance
Truist Bank
Robbins and Associates
To view today's event in its entirety, visit the UCPS Facebook page.
To view a recap video of today's event, click here.
Check out the photo gallery below to view pictures from the 2021 Books and Brackets event: