Return to Headlines
UCPS graduates are named 2021 Teacher of the Year and Beginning Teacher of the Year
Union County Public Schools (UCPS) is pleased to announce the 2021 Teacher of the Year and Beginning Teacher of the Year recipients. Hannah Park has been selected as the Teacher of the Year and Dylan Chavis is the Beginning Teacher of the Year.
On April 29, during a virtual celebration, UCPS Superintendent Dr. Andrew Houlihan, principals, senior leaders, and Board of Education members recognized the finalists.
"What we've all been through collectively as a school system, I can't tell you how proud we are of all of you - of our teachers, our school administrators," said UCPS Superintendent Dr. Andrew Houlihan as he addressed the candidates. "You have gone above and beyond for our children whether you've been a virtual teacher or in-person teacher or all points in-between. Your leadership and dedication to our families and commitment to this wonderful school system is certainly noticed."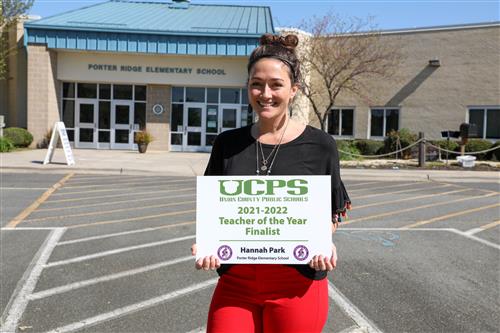 Hannah Park is a third-grade teacher at Porter Ridge Elementary School. A graduate of Pfeiffer University, she has been an educator since 2016. In her classroom, Hannah provides research-based teaching and learning in a safe, virtual space while facilitating classroom sessions with small groups of students. Mrs. Park is a 2008 graduate of Central Academy of Technology and Arts.
"Every day I get the opportunity to work with some really amazing women who inspire me," said Mrs. Park. "I would not be here without my Porter Ridge family, thank you guys so much you are amazing and I love all of you."
Dylan Chavis is a social studies teacher at Porter Ridge High School. A graduate of the University of North Carolina Wilmington, he has been an educator since 2020. In his classroom, Dylan strives to lead by example through educating and inspiring his students every day. Dylan graduated from Porter Ridge High School in 2016, and spent his entire K-12 education in Union County.
"I'm so thrilled and honored. I will do everything I can to represent Porter Ridge and the county as best I can. I'm incredibly overwhelmed, thank you so much," said Mr. Chavis.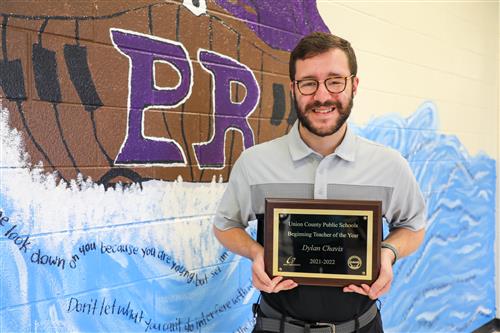 Each year, Union County Public Schools recognizes teachers who not only show dedication and capacity to inspire students of all backgrounds and abilities to learn, but also establishes an environment that is in line with the pursuit and achievement of academic excellence.
Teacher of the Year and Beginning Teacher of the Year finalists were selected from a pool of 53 school-wide candidates. Both winners will represent UCPS in the regional teacher programs.
In addition to countywide recognition, the Union County Education Foundation will award Mrs. Park with $1,000 and Mr. Chavis with $500 for their personal use.
"We are very proud of all of you and thankful for all of you. You all are tremendous educators, we honor you this evening, we honor you every day," added Dr. Houlihan.
Congratulations to Hannah Park and Dylan Chavis.
Published April 29, 2021