Return to Headlines
#UCPSGrads: Wolfe School senior Abhi Hopper and Parkwood High senior Dalton Nagy
Wolfe School – Abhi Hopper
Wolfe School senior Abhi Hopper loves to stay active. When he is not at school or volunteering, Abhi likes to ride mountain bikes in parks, roller skate, go to Carowinds and work out at the YMCA.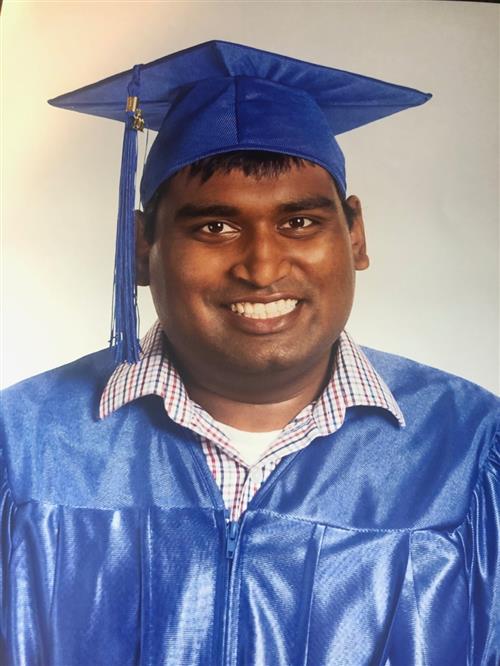 Abhi has autism and is nonverbal so he communicates his basic needs through sign language. While at Wolfe, Abhi enjoyed the cooking sessions and his physical education classes.
As Abhi prepares to graduate from Wolfe School and take the next steps in life, this is what his mother Hema Hopper had to say about Abhi's time at Wolfe and his future plans:
On Abhi's future plans: Abhi will volunteer his time in the community. He will help out at Common Heart, Hope Vibes, Beds for Kids and other organizations. He will also continue with his painting and crafts.
On Abhi's time at Wolfe School and how it shaped him: Abhi has learned and grown at Wolfe school. Along with academics, life skills, and job coaching skills, the teachers and staff take very good care of Abhi and they know him very well. The staff is well trained and the leadership is excellent. Mrs. LeRoy helped Abhi cope with his behaviors and taught him to self-regulate his behaviors. All the teachers and staff worked as a team to help shape Abhi.
On what Abhi and his family will miss most about being a part of the Wolfe family: Abhi is going to miss seeing Mrs. LeRoy. He is going to miss the warm welcome of Mr. Greg, his teacher, and Mr. Deming, his principal in the mornings. He will miss going to school and seeing the staff and all his friends. He will miss the love, comfort and security of the people who love and understand him well. He is going to miss the structure and routine of school and the activities.
On advice for other families: Having a community is very important for parents and siblings. Surround yourselves with folks who walk in your shoes, who understand what you and your child are going through. It helps to know that you are not alone in this journey and that there are others who go through similar things. That community is there to encourage you, cheer for you, share the resources with you and sometimes will just quietly walk beside you with a hand on your shoulder.
Structure and activity is very important for the kids. We need to keep the kids active. It is good for their physical well-being.
Above all give everything to God's hands. He has created your child beautifully and He loves and cares for them the most and He will take care of them. Just learn to trust Him and depend on Him for your everyday needs. We cannot do it alone. Ask for help.
Parkwood High – Dalton Nagy
Parkwood High senior Dalton Nagy stayed busy in student leadership as he served as the vice-president of the National Honor Society and the president of the BETA Club, and a member of Young Life.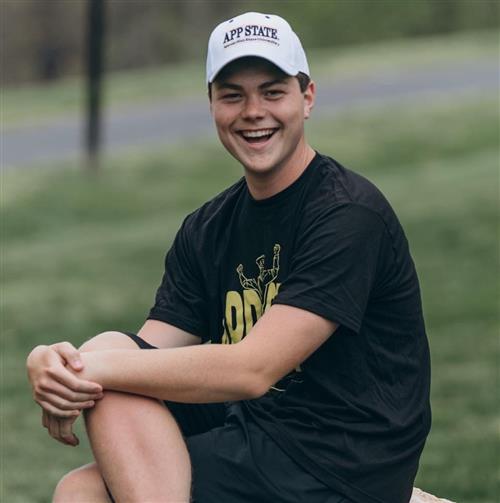 With a 4.4 GPA, he was also a dedicated athlete as a member of the swim and tennis teams. Outside of school, Dalton is involved with his church and plays the drums, and the bass guitar for the Forest Hills Youth Program in Waxhaw. The bass guitar is his favorite instrument to play and he sharpened his skills during quarantine. Dalton plans on attending Appalachian State University's Honors College this fall to study management.
On his plans for the future: I plan on getting a degree from Appalachian State University in management. Then hopefully entering into the workforce and or become an entrepreneur.
On how Parkwood prepared him for the future: Parkwood High places a lot of pride in their career and technical education (CTE) programs and the constant opportunities to do things with the program are really helpful. Also, the ability to challenge yourself with the classes you take are great.
On advice for current students: Don't be afraid to challenge yourself. Take that AP course or college class. Take advantage of all the opportunities you can!
On his fondest high school memory: A BETA Club national convention in Oklahoma City and the senior water balloon fight.
Published June 4, 2021