Return to Headlines
#UCPSGrads: Sun Valley High senior Lauryn Fraction and Marvin Ridge High senior Bennett Huffman
Sun Valley High – Lauryn Fraction
Sun Valley High senior Lauryn Fraction has an undeniable passion for helping and caring for others. The recent graduate boasts a 3.94 GPA, while being a part of the tennis team, a cheerleader, BETA Club, student council, the green team – which picks up trash around school and volunteers at the local animal shelter.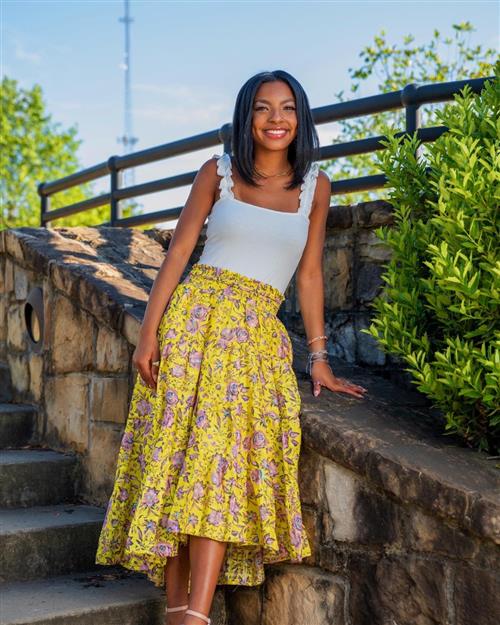 With all this on her plate, Lauryn started a non-profit in 2020 during the coronavirus quarantine called Conquering Hunger as a way to help address hunger disparities in the Charlotte area.
Lauryn plans to attend Howard University this fall and study nursing. Her goal is to become a physician assistant.
Lauryn has earned several college scholarships including, a $16,000 debutante scholarship from Rho Psi Omega (RPO) Inc., a $1,000 scholarship from Mu Tau Omega Alpha Kappa Alpha, a $5,000 merit scholarship from North Carolina Agricultural and Technical State University. She will also receive $17,000 per year from the Howard University Founders Scholarship and $15,000 per year from the Hampton University merit scholarship.
For more information on Lauryn's non-profit, visit www.conqueringhunger.org.
On her plans for the future: I plan to attend Howard University and major in nursing, then become a pediatric physician's assistant or nurse practitioner. Helping and caring for people has always been a big passion of mine and I have been interested in the medical field since I was very young. I'm super excited!
On how Sun Valley High prepared her for the future: Sun Valley preaches a motivational mindset, our motto is "Don't be good, be great!". Sun Valley has taught me to work hard and never give up on achieving my goals. It has taught me to stay positive and motivated in everything I do and to always push myself and have fun in the process!
On advice for current students: My advice would be to get active and involved in clubs you can relate to and have a passion for. Be open to trying new things and be kind to everyone around you! This will allow for a fun filled high school experience that you won't regret!
On her fondest high school memory: My fondest high school memories are the football and basketball games! The atmosphere is amazing and it's always fun to cheer on our teams with all of my friends surrounding me as well as getting dressed up for the themes (USA out, White out, Hawaiian out, etc). I also really enjoyed getting dressed up and attending prom this year.
Marvin Ridge High – Bennett Huffman
Marvin Ridge High senior Bennett Huffman is honoring family tradition and following in the footsteps of his grandfather and father who previously served in the Navy. With a 4.5 GPA, the recent graduate plans to attend the United States Naval Academy in Annapolis, Maryland to study electrical engineering. After college, his goal is to serve in the Navy for five years.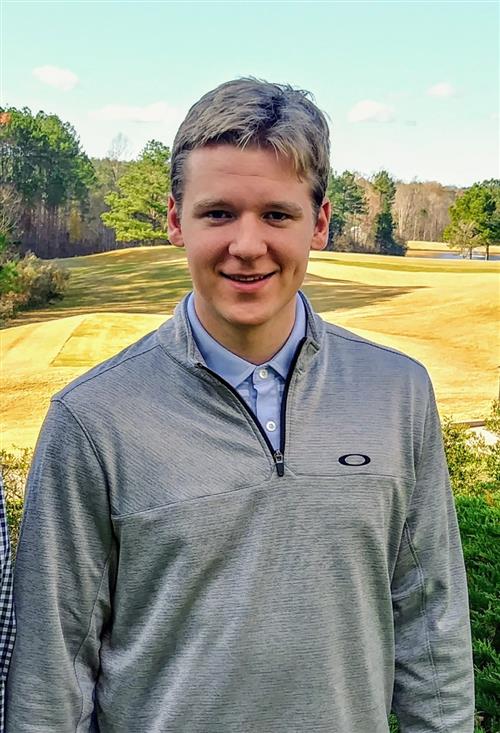 During his time at Marvin Ridge High, he was a member of the basketball team, Future Business Leaders of America (FBLA), National Honor Society, National Chinese Honor Society, National Math Honor Society and the National English Honor Society, and participated in the International Baccalaureate (IB) program.
Outside of school, Bennett has volunteered at his church as an audio tech. He also gives his time as a youth basketball coach for a local league.
On his plans for the future: Upon graduation from high school, I plan to attend the United States Naval Academy for the next four years. At the academy, I intend to study electrical engineering while preparing for life as a naval officer. After graduation from the academy, I will begin my service of five years in the Navy, potentially on a carrier or a submarine. Following in the footsteps of my family members, serving in the Navy is a lifelong goal of mine. After those five years, I will either continue my service in the military or depart to pursue a career using my degree potentially in a tech field.
On how Marvin Ridge High prepared him for the future: Marvin Ridge was a strenuous environment where your classmates and teachers would push you to become the best version of yourself. While at times it could seem rather cutthroat, that constant motivation was what allowed me to achieve all the things I did during high school. The focus on academics and the intense rigor of my classes, combined to provide me with an education suitable to achieve my next goals in life. The wide variety of classes at Marvin, as well as the strong nucleus of teachers present, were equally imperative in pushing me to be the student I am today.
On advice for current students: My advice for current students would be to become enrolled in a wide variety of clubs. Being able to meet different people in those clubs and introduce yourselves to a more diverse group of people was something that I wish I had done from an earlier age. I think joining clubs is also an effective route towards determining your true passion in life and setting yourself on a career path of which you desire.
On his fondest high school memory: My fondest high school memory would have to be winning the JV basketball conference my sophomore year. Being a captain of that team as well as an everyday starter made becoming champions even more special. Those teammates are people I still consider to be my closest friends, as the two hours every day that you spend with them during practice, or on the bus on the way to games was a time when unbreakable bonds were formed. Achieving that honor with people that I consider to be family will forever be something I can appreciate.