Return to Headlines
UCPS Mobile Book Bus makes a big return this summer
Summer has officially started in Union County Public Schools (UCPS), with the return of the mobile book bus after a year hiatus due to COVID-19.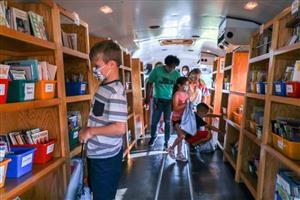 Starting Monday, June 14, the bus will visit summer learning camps and communities throughout Union County. With more than 100 stops, elementary-aged children will have the opportunity to board the retrofitted activity bus and pick out two age-appropriate books at no cost.
"We've had a big effort in Union County Public Schools to tackle literacy head-on, especially for kindergarten through third-grade students," said Dr. Andrew Houlihan, UCPS Superintendent. "The UCPS Mobile Book Bus is an effort that is community-based, and we have to give a big thank you to our many partners that have donated all of our books."
The bus made its first stop at Kensington Elementary, where Dr. Houlihan visited with students and staff about the bus's exciting return. This annual program promotes reading fun for students over the summer, while also helping to build students' home library.
"This book bus is generating excitement for reading as it is putting a physical book in the children's hands," said Terri Adams, Kensington's Summer Learning Camp site administrator. "A lot of things happened virtually this year, it's nice to put those books back in students' hands."
Thanks to generous book donations from the community, Promising Pages, and the Union County Association of Educational Office Professionals, thousands of new and gently used books are ready and waiting to be distributed to elementary students this summer season.
"I truly believe that literacy is the foundation of all learning," said Terry Vaughn, Kensington Elementary principal. "Any time we can make learning fun, and get an exciting bus out here that puts books in kids' hands over the summer when they're away from the classroom is a powerful experience for kids."
To learn more about the UCPS Mobile Book Bus and to see the bus schedule, click here.
Published June 14, 2021