Return to Headlines
Middle school students sharpen financial literacy skills, discover new science experiments at summer camp
Students at the Porter Ridge Middle summer learning camp are diving into science. Each day, students are participating in hands-on activities that are teaching them about creativity and collaboration, all while having fun. Students have built roller coasters, explored weather in a jar and developed solar ovens.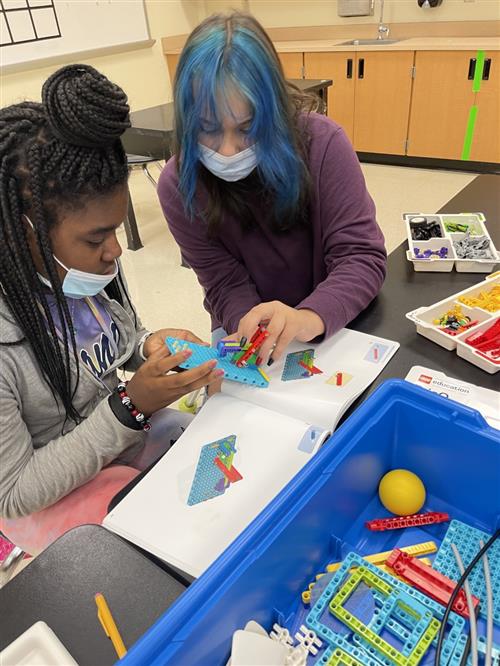 For the weather in a jar project, students used this activity to "make it rain" in a jar. Materials needed for this activity include an empty glass jar, plate, hot water, and ice cubes. First, the glass jar is filled with very hot water. Then the plate is then placed on top of jar and ice is placed on the plate. Students can see "clouds" form and then the formation of "rain". The ice cools the plate and causes the moisture in the warm air to condense and form water droplets.
In Terra Dunn's science class, this week students studied potential and kinetic energy by building Lego soccer goal sets with the aim of kicking or launching a small ball into the goal from different angles.
"I like how science teaches me things that I didn't know about, like different types of energy," said Bezire Marsh, a rising seventh-grade student at Porter Ridge Middle. "It's just fun."
This week in Madison Maher's English class, students learned about dystopian societies and the different books and movies that have displayed such societies. Rising eighth-grader, Grayson Woolwine says he's written about 20 stories throughout the summer but says his favorite so far was his fictional piece.
Students read "A Long Walk to Water", which emphasized the importance of protecting our water sources. They also had a chance to experience what it would be like to walk carrying 20 liters of water.
For math, students focused on how it is used in our everyday lives. Students worked on budgeting and used their "incomes" to pay bills, taxes, rent, and miscellaneous items. They were given a random salary by spinning a wheel, and then tried to and live based on their monthly incomes.
With all the engaging and real-world learning experiences students are having, parents are expressing their satisfaction with the UCPS Summer Learning Camp.
Brian Greig is the parent of a rising ninth and seventh grader. Mr. Greig says that his sons have been in remote learning since the beginning of the pandemic, and he wanted to make sure they were enrolled in the camp so that they would adjust once the new school year begins.
"We're happy that they were able to get into a program that allowed them to receive additional learning," said Mr. Greig.
"My sons really like their teachers, they tell me every day the things they are working on and they are really excited about it. The program keeps them well engaged," added Mr. Greig.
Mr. Mapp said that the biggest focus of this summer has been building relationships with students and creating an environment that would allow them to have fun and learn.
To learn more about UCPS Summer Learning Camp and to see all the fun activities, follow @UCPSNC on Twitter and Instagram.
Published July 21, 2021