Return to Headlines
UCPS celebrates Hispanic Heritage Month by honoring history, culture, and contributions
With its abundant history, culture, and traditions, UCPS is proud to celebrate Hispanic Heritage Month which runs from Sept. 15 through Oct. 15. Teachers, students, and staff across the district have planned and organized various events and cultural exchanges all in an effort to introduce UCPS students to the beauty, diversity, and depth of Hispanic heritage and culture.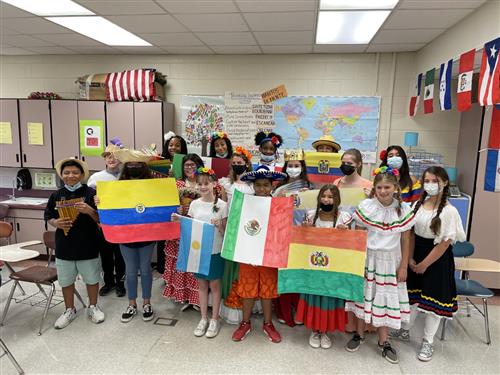 Students at East Elementary started off Hispanic Heritage Month with learning more about Honduras and Columbia. During the morning announcements, third-grade Dual Language Immersion (DLI) teacher Fabiola Meza Rodriguez and second-grade DLI teacher Narda Rozo respectfully spoke to students about their home countries of Honduras and Colombia.
Both teachers are also incorporating Hispanic heritage, customs, culture, and history into their teaching throughout the school year. "I love to celebrate Hispanic Heritage Month with my third graders because a majority of the kids are Hispanic. So, I try to teach them about their roots and to be proud of where they came from," said Mrs. Meza. "Non-Hispanic students are also getting knowledge about the world and not just about the United States. They are becoming global learners."
At Sun Valley Middle DLI teacher Maria Florencia Guida's students did research on Latin American countries and Spain. Their research included where the countries are located, the countries' different cultures and customs, and notable individuals from those countries.
After learning about the various countries, Mrs. Guida's students presented the information to the school. Her students visited several classrooms to present the knowledge and broadcasted it on the school's morning announcements. Mrs. Guida said that she received a lot of support from her students' parents especially ones that have a Hispanic background.
Partnering up with fellow Spanish teacher Erika Platnick and her students, the group went around to different classrooms dressed up in various traditional outfits representing different Hispanic countries to share the knowledge and information they learned with their peers.
"This is a great opportunity for me and other students to learn about different countries and celebrate their traditions and holidays. It's a new experience," said Mariella Clark, seventh grader at Sun Valley Middle.
Seventh grader Justin Garcia's family is from the Dominican Republic, "This is awesome because not only can I learn about other Hispanic countries, but others can learn about the Dominican Republic."
Mexico, Argentina, Dominican Republic, Colombia, Spain, Cuba, Guatemala, Ecuador, and El Salvador were among the nations researched and presented. The celebration of Hispanic heritage spread throughout the school, as students who were not in Mrs. Guida's class came forward to be a part of the presentations, just for a chance to put their Hispanic heritage and culture on display.
"It's important to recognize Hispanic heritage and culture and the influence it has had in this country. All students should know the value of getting to know and understanding different cultures," said Guida.
Hispanic Heritage Month activities for students at Marvin Ridge High include students participating in the annual Hola Charlotte Festival in downtown Charlotte on Oct. 9 and an all-day celebration on Friday, Oct. 15 at the school.
The daylong celebration will include a soccer match, pin the tail on the donkey, making piñatas, and Zumba. Churros will be served, and students will be educated on the many contributions of Hispanic people in our community and our country.
"Celebrating Hispanic Heritage Month helps to open a cultural perspective for all students," said Alejandra Elliott, Marvin Ridge IB Spanish teacher.
Published Oct. 5, 2021