Return to Headlines
Porter Ridge High student Claire Kramb wins 2021 Holiday Card Contest
The UCPS Holiday Card Contest has been a special tradition in Union County Public Schools for several years. With so many talented students across the district, Team UCPS is excited to continue this program to celebrate the arts.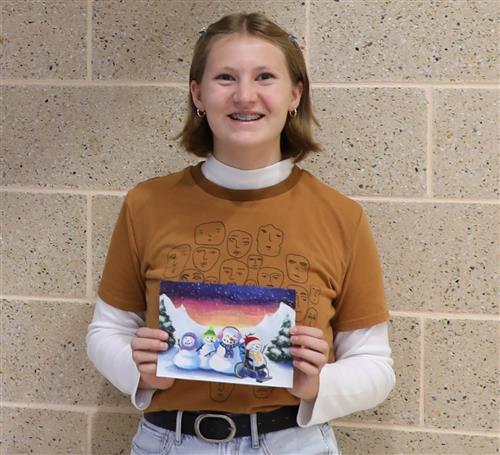 This year, we received 523 submissions, and students from all grade levels participated. The contest ran in October and the committee narrowed the list to the top 10 finalists.
New this year, we held an online voting contest for the top 10 that allowed parents, students, staff, and others to vote on their favorite card. Through online voting, there were 4,061 votes for the top 10 cards.
After hundreds of student submissions and thousands of votes cast, the 2021 Holiday Card Contest winner is Claire Kramb, a ninth grader at Porter Ridge High.
"I wanted to represent all different kinds of people," said Claire. "It's about inclusiveness, especially during the holidays. So that's why I did snowmen."
The winner was announced on Nov. 18 during a special virtual celebration with the 10 finalists, their families, UCPS Superintendent Dr. Andrew Houlihan, art teachers, principals, senior leaders, and Board of Education members.
"Thank you for your wonderful displays and all that you've done for this competition. We were all blown away with your artistry and we're very excited to recognize all of you tonight," said Dr. Houlihan to the finalists during the virtual celebration.
Claire's artwork will soon be featured on the cover of the official 2021 UCPS Holiday Card. Her name and grade will also be noted on the card. In addition, she will also receive a $100 gift card, personalized gifts, and recognition on the UCPS website and social media pages.
"Thank you so much to everyone who voted for me. I'm very fortunate to have so many people supporting me, like my parents and all my art teachers over the years. This was such a great opportunity to have," said Claire.
The following is a list of the 2021 UCPS Holiday Card finalists:
· Alyssa Bowman, seventh grade, Porter Ridge Middle
· Hunter Christian, first grade, Weddington Elementary
· Evie Frain, seventh grade, Weddington Middle
· Kylie Gardner, seventh grade, Cuthbertson Middle
· Kathryn Grace, eighth grade, Weddington Middle
· Kelcey Griffin, 10th grade, Central Academy of Technology and Arts
· Shruthika Kampati, ninth grade, Marvin Ridge High
· Melissa Smedberg, 10th grade, Marvin Ridge High
· Emerson Tanner, fifth grade, Stallings Elementary
Claire's card is available for purchase via Living Tree, the district's fundraising portal. All proceeds will go to Porter Ridge High's art department.
Congratulations Claire!
Published Nov. 18, 2021