Return to Headlines
Class of 2022: A business and a revelation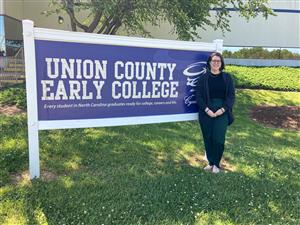 Union County Public Schools is extremely proud of the Class of 2022. Beginning today, we will highlight several graduates through feature stories. The first one will focus on a Union County Early College (UCEC) graduate who was innovative during the pandemic and used her creativity to earn extra money.
Although many businesses faced challenges in 2020 due to the pandemic, senior Meghan Sedberry was able to launch a business selling handcrafted jewelry, accessories and stickers on Instagram and Etsy. At that time, Meghan's employer had shut down, her school clubs were at a halt, and UCEC shifted to online learning.
Meghan had free time for the first time in a long time.
"When the COVID-19 pandemic struck, I was at a loss. I was so focused on school and work before it happened. It was hard to stay home all the time," said Meghan. "I was always a creative child. I was in art clubs in elementary and middle school. I let go of that creativity once I got to high school. The free time let me tap back into it."
Meghan started to fill her time with simple crafts like painting. When the restrictions began to ease, she got a job at a craft store. That's when her imagination took off. They sold beads and jewelry findings, and the prospect of creating with them piqued her interest. Her wire-wrapped beaded jewelry became a hit among her family and friends. They suggested she sell it. In November of 2020, she opened up her shop.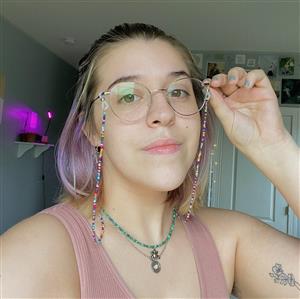 "I started posting on Instagram and following other small businesses. My items became popular during the holidays. I was grateful for it, but there were times I'd get 10 orders a day," said Meghan. "Since I handmade everything, it took time to fill the orders. The summer was another busy time for me."
Her mushroom earrings were her most popular item, and she attributes the growth of her business to them. However, the demand was becoming overwhelming. Meghan kept selling her products until December of 2021 when she closed her online store.
"It was no longer fun to make them. It started taking away from my other passions," said Meghan. "I'm going to keep it as a hobby because it makes me happy. I'm glad I did it. It was what I needed at the time."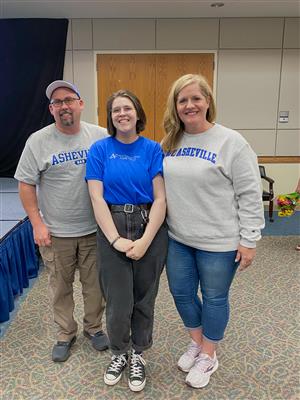 The experience taught her that consistency is vital to success, to rely on herself more, the importance of time management and that she doesn't want to run a business long-term. She would price her items better to include additional labor and time if she reopened the business.
Meghan gained something else from it she hadn't expected—healing.
"It will sound cheesy, but getting back to something I loved during a challenging time healed my inner child. It brought me so much joy," said Meghan. "When I would get positive comments from customers, I could see it brought them joy, too."
What are Meghan's next steps? She had planned to major in mathematics before the pandemic and will continue on that path. Now, she intends to also minor in astronomy. Meghan realized that the scientific process is a creative one. One that she is eager to pursue.
"People don't think creativity and math go hand-and-hand," said Meghan. "I've always been good at math and genuinely enjoyed learning it. There are so many things to explore. During the long hours of making jewelry, I had space documentaries playing in the background. It's fascinating."
As a UCEC 13th-year graduate, Meghan will earn her high school diploma on Wednesday, May 11 and her associate's degree from South Piedmont Community College on Saturday, May 14. She is attending the University of North Carolina in Asheville in August.
05/11/2022