Return to Headlines
Signing on the dotted line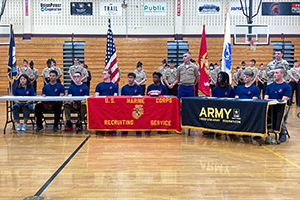 When seniors think about their options after graduation, many consider technical and trade school, the workforce, college or joining the military. On May 4, 10 Union County Public Schools seniors participated in Military Signing Day at Sun Valley High School. The signing day is an annual tradition in which seniors from various UCPS schools who wish to participate are celebrated.
Administrators, parents and other family members were in attendance to support their decision. During the ceremony, there were various speakers from different military branches. Students signed commitment letters and took an oath.
Students join the military for many reasons. It could be to gain college degrees through various educational programs, improve discipline, worldwide travel and build unique work skills. Whatever the reasons, it is a viable alternative for them.
A family tradition stemming from a great grandfather's military service continues with Kingsley Turriff, a Sun Valley High senior. Several colleges approved Kingsley's applications. However, her interest in the Navy and the medical field kept the option open. She chose to enlist in the Navy about four months ago.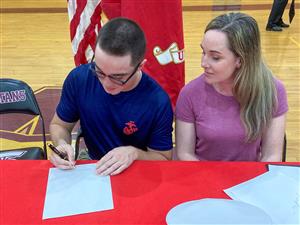 "I haven't decided if I will be a hospital corpsman or an intelligence specialist yet," said Kingsley. "Enlisting in the Navy felt like the right thing for me. I discussed it with my family, mentors and the recruiters. I am happy with my choice."
Christian Mcleod, a Sun Valley High senior, had wanted to join the Marines since he was eleven years old. He began to take it more seriously during his junior year. He will be the first in his family to join the military.
"I chose the Marines because I wanted a challenge. I've had people tell me I won't be able to do it. I'll prove them wrong," said Christian. "My mom supports me, and I'm ready."
Congratulations to the following students who attended the May 4 signing. It is not representative of all seniors in the district who may be considering military service, schools or academies.
Sun Valley High
Kingsley Turriff, United States Navy
Mathew Bryan, United States Air Force
Camden Anderson, United State Marine Corp
Christian Mcleod, United State Marine Corp
Angel Avitia, United State Marine Corp
Brenda Gaona Vazquez, United State Marine Corp
Central Academy of Technology and Arts
Timothy Smith, United State Marine Corp
Forest Hills High
Jayden McDougall, United State Marine Corp
Devin Phillips, United State Marine Corp
Porter Ridge High
Jakob Reagan, United State Marine Corp
05/16/2022