Return to Headlines
Behavioral Health Collaborative earns Region of Excellence Award
The award recognizes individuals, communities and organizations for outstanding achievements in 2021. The Behavioral Health Collaborative connects students and their families to social, behavioral, emotional, and mental health support, and added additional initiatives in 2021 to address challenges presented by the COVID-19 pandemic.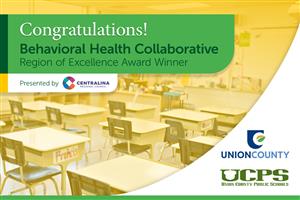 "While our team was only in its first year of service when the pandemic hit, we met the challenge head on to ensure we made every effort to meet evolving needs, as supporting students is our top priority," said Christina Neal, Behavioral Health Collaborative program manager.
In 2021, the Behavioral Health Collaborative served more than 20,000 students, which includes helping more than 200 elementary, middle and high school students with thoughts of self-harm and suicide. Staff delivered more than 3,000 bags of food in 2021 to families across Union County, provided by Food for Families.
"The innovative approach to provide these services is not only a valuable way to support some of our most vulnerable residents, but it often results in life-saving resources," said Deputy County Manager Michelle Lancaster.
The Behavioral Health Collaborative began in December 2018 to make a positive impact on students' social and emotional well-being by providing access and resources to behavioral, emotional and mental support.
"This partnership is very important to our community and our school system. Together, we are removing barriers for students in need and are addressing real-life challenges, said Superintendent Dr. Andrew Houlihan."
Visit the Union County website to learn more about the Behavioral Health Collaborative and resources available. Each year, Centralina invites local governments to nominate innovative projects, programs, plans and individuals that have contributed to significant advancements in the nine-county region that includes Anson, Cabarrus, Gaston, Lincoln, Iredell, Mecklenburg, Rowan, Stanly, and Union counties. Watch this year's virtual award ceremony here
05/17/2022