Return to Headlines
Energizing minds with new tools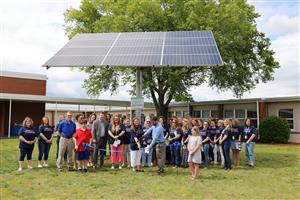 Western Union Elementary is now Union County Public Schools' only school with a solar panel. It is also one of 10 schools in North Carolina to receive it. Principal Kristi Williford and a team of teachers have been on a mission to complete this project to provide added environmental education for their students.
"I get a lot of questions about why a solar panel. Usually, my response is, why not? We are all about engaging our students because it directly improves student performance.," said Willford. "Many people think STEM stands for Science, Technology, Engineering and Mathematics, and that's not necessarily true. It can. Here, it means Students and Teachers Engaging Minds."
NC GreenPower Solar+ Schools is a program that brings solar educational projects to schools. Schools must apply for a $27,000 matching grant from NC GreenPower to install a solar photovoltaic (PV) array outdoors. The $14,000 in associated benefits includes modules, a STEM curriculum and teacher training. Last year, the teachers applied for and were awarded one of the matching grants.
The school community celebrated the new installation with a ribbon-cutting ceremony on May 12. Superintendent Dr. Andrew Houlihan, administrators, board members, a representative from Union Power and the teachers who helped make it happen were in attendance.
"When you pull into the parking lot, you really can't see this from the side of the school. When I turned the corner, I wasn't sure what to expect. It's a lot bigger than I thought it would be," said Dr. Houlihan. "This will be a phenomenal tool for our students and teachers to learn more about STEM and all the different, exciting ways we can advance our powered learning at Western Union."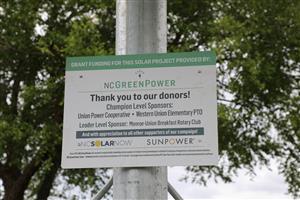 Ashley Klepfer, a fourth-grade teacher, is enthusiastic about the educational tools. Students will begin working on a Sunny Side Up project using Discovery Education. They will build cookers using solar energy. They'll figure out how solar energy uses absorption, reflection and insulation to maximize thermal energy.
"The project will use Discovery Ed's four C's, which are collaboration, creativity, communication, and critical thinking skills," Klepfer explained. "I'm looking forward to our students learning more about energy, how we use it, and how this will benefit not only our school but also our community."
The process has taken about two years. Everyone agrees it's worth the wait.
"It's a great opportunity to make a solar investment that helps students learn about renewable energy and how it affects their energy consumption," said Jake Thomas, the manager of marketing and energy services for Union Power."
05/18/2022