Return to Headlines
Benton Heights Elementary and Sun Valley Middle earn Leader in Me Lighthouse status
Union County Public Schools is celebrating the accomplishments of two schools that have been named a Leader in Me Lighthouse School. Benton Heights Elementary School of the Arts and Sun Valley Middle now join more than 600 schools around the world as Lighthouse schools.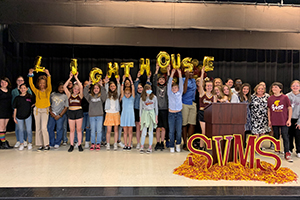 Leader in Me is an evidence-based, school improvement model that empowers students with the leadership and life skills they need to thrive in the 21st century. Leader in Me is based on a theory of change known as the See-Do-Get Cycle. When you change the way you See things, it influences what you Do and results you Get.
The Lighthouse designation is a highly-regarded standard set by FranklinCovey that is attainable by every Leader in Me school. As it is a significant benchmark, applying for this certification typically occurs four to five years after a school begins the Leader in Me process.
Sun Valley is the first middle school in UCPS, and the ninth in North Carolina to earn this prestigious recognition. Principal Ashley Smith made the announcement to the school on May 19 during Leadership Day.
"The students, staff and Sun Valley community made accomplishing Lighthouse status a reality," said Smith. "They made a commitment and a consistent effort to creating a culture of leadership and excellence. I am so incredibly proud and grateful to be the principal of our school as we Light the Way."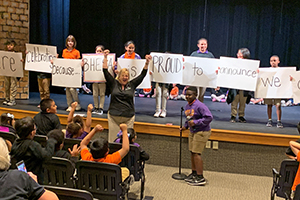 The announcement at Benton Heights School of the Arts is very special to Principal Dr. Candice Boatright. This is the second school to earn a Lighthouse Certification under her leadership. She was the principal of Indian Trail Elementary when the school earned its certification in 2016. Dr. Boatright shared the news with her staff on May 18 and students were informed today during the school's growth parade.
"Benton Heights Elementary has come out stronger than ever since the 2020 shutdown, said Principal Dr. Candice Boatright. "Our six-year experience with Leader in Me helped us with our paradigms throughout it all. At the start of the 2021-2022 school year, our staff committed to go forward with becoming a Leader in Me Lighthouse School. The hard work and alignment within the school has proven that our school is worthy of Lighthouse recognition."
Lighthouse schools must meet nine standards that demonstrate teaching leadership principles, creating a leadership culture and aligning academic systems. Criteria include a partnership between the school and families to learn about the 7 Habits, implementing a variety of leadership roles and opportunities for student voice in the school and teacher planning and reflection to create highly engaged learning environments.
"I remember when these schools started their Leader in Me journey and to see them earn a Lighthouse Certification is amazing," said Superintendent Dr. Andrew Houlihan. "I am extremely proud of the principals, administrators, teachers, students and parents who worked hard to attain this level of achievement."
UCPS now has four Lighthouse schools—Indian Trail Elementary, Rocky River Elementary, Benton Heights Elementary and Sun Valley Middle.
Schools maintain Lighthouse Certification for two years. At the end of the two years, the school will re-certify its Lighthouse status through a virtual self-assessment, describing and celebrating its growth and accomplishments since its original Lighthouse designation.
05/23/2022