Return to Headlines
Class of 2022: Same school, two distinct service careers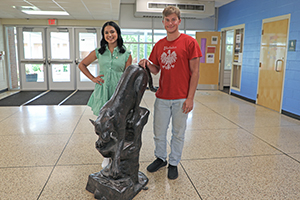 Two Piedmont High School seniors have chosen to help others by pursuing careers in medicine and public safety, thanks to their school's nurse aide and firefighter academies. Seniors Valentina Bermudez and Roman Durant knew they wanted to be a part of these academies early on. Participating in the academies has enabled them to obtain certificates that they can use to gain employment or to advance their education or professions.
Nursing Aide Academy
Valentina's motivation to become a certified nursing assistant (CNA) stemmed from a tragic event in Colombia that changed her and her family's lives.
When I was four, my one-year-old brother passed away from cancer. I saw how it affected my family. Our struggle with his loss grew my interest in the medical field, specifically in the area of oncology," said Valentina. "We moved to the United States when I was about nine. I was determined to study medicine. When I learned about the program as a freshman, I knew I had to take it."
Valentina credits her success in the program to her teacher, Julie Plyler, who is also a registered nurse and a Piedmont High graduate. They met during Valentina's sophomore year, and Plyler became her teacher her senior year.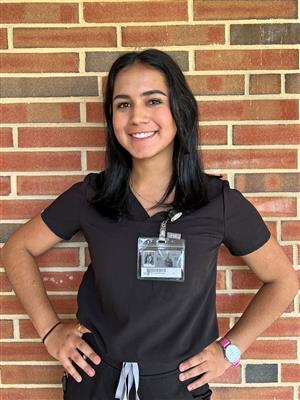 "I've been a nurse for 27 years and started teaching five years ago. I teach so my students can go into the field for the right reasons—not for a paycheck but because they want to help and care for somebody," said Plyler. I was in high school when I became a CNA, but it wasn't provided here, so I had to take night classes. This is an excellent time for them to determine whether or not this is what they want to do."
Valentina received her CNA pin on Friday, May 27, completing her first goal. With this certification, she will be eligible to work as a CNA in hospitals, nursing homes, outpatient clinics and for private individuals. She plans to apply for jobs this summer and work to obtain clinical hours for her next endeavors.
"When I doubted myself or had any issues, I knew I could count on Ms. Plyler to give me the best advice. Anything she said always came from her heart. She prepared us for the most stressful exam we have taken yet and never lost faith in our potential," said Valentina.
Valentina's interest in medicine aligns with her commitment to the community. She is a Colombian Cancer Kids First ambassador. Last summer, while visiting family, she donated toiletries, groceries, medicine, toys, and funds to families at the two hospitals where her brother had treatment. She met some of the staff who worked there during that time. The experience made her more passionate about the medical profession.
Valentina's CNA certification is the first step. She intends to pursue a bachelor's degree in nursing at the University of North Carolina Wilmington. Her aspirations include earning a master's degree in physician assistant studies and serving as a pediatric oncologist physician assistant.
"I intend to work at St. Jude Children's Research Hospital to help families worldwide," said Valentina. "I also hope to assist the hospitals in Colombia that treated my brother in the past and are helping current families who have children suffering from this horrible disease."
Firefighter Academy
In his sophomore year, Roman Durant began taking public safety classes to explore if it was something he wanted to pursue. He enjoyed the classes but didn't decide to enroll in the Firefighter Academy until his senior year. Before that, he had always thought he'd have a career in sales.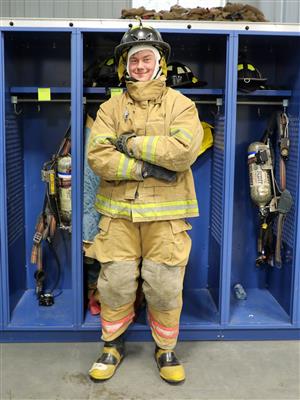 "I was the kid who would sell rocks and people would buy them," said Roman. "This year, Mr. Baucom changed my outlook on it. The way he taught the courses made me want to continue to pursue public safety as a career."
His training taught him to take a step back and look at the big picture, whether on the job or in life. Because he is an Eagle Scout, Roman understands discipline, work ethic, problem-solving, flexibility and spatial awareness. Those skills, and others, were developed more at the academy.
Firefighting is a physical career. Simulating live emergencies, such as forcible entry; correctly putting on all the gear; setting up an extension ladder; and executing vehicle extractions are a few of the exercises students perform.
Roman's teacher, Chad Baucom, has been in the fire service in Union County for 20 years, starting as a senior at Piedmont High. Baucom said the academy creates a retention and development tool for surrounding fire departments. It also trains the students to be highly skilled firefighters and well-rounded professionals.
"I have watched Roman grow as an individual this year. He went from being a quiet and shy person to coming out of his shell and being a student who would help others with their practical skills," said Baucom. "Roman was an example setter to the other students and was always respectful to everyone. He is also one of four students who will have the chance to wear a cord at graduation based on their performance and credentialing."
Roman plans to attend South Piedmont Community College and continue in public safety. His credits for the related courses will be transferred to the college.
"Firefighting isn't for everyone, but if a student is interested, I'd recommend they take a class to try it. As a freshman, I took some computer classes. I figured out I didn't like the computer programming stuff," said Roman. "Don't be scared to try different things. You might discover that you can do more than you think you can."
For more information about the Nurse Aide Academy, visit https://ucpscte.org/academy/firefighter. For more information about the Firefighter Academy, visit https://ucpscte.org/academy/firefighter.
06/04/2022