Return to Headlines
Class of 2022: An internship changed her path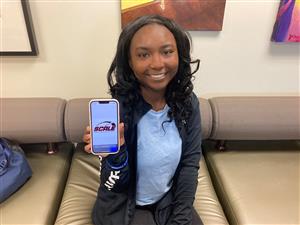 Some experiences can change your life's path. Senior Andrea Burns had planned to major in business administration at the University of North Carolina Greensboro. A semester-long internship at Scott Clark Toyota led her to reconsider her major. Andrea now plans to study marketing and minor in Spanish. She also wants to become Adobe certified.
Andrea, a Parkwood High School student, was one of five students chosen from various Union County Public Schools to participate in SCALE (Scott Clark Accelerator for Leadership and Education), the company's internship program. The redesign of the SCALE logo was one of their first projects. Andrea learned how to take her vision and turn it into a reality during that process. Her design was chosen as the program's official logo.
"I had no idea how to work Adobe Photoshop or Illustrator. We were able to work with their graphic designer, Patricia Smith, and learn from her," said Andrea. "I learned how to edit videos, create flyers and banners and write marketing copy. I also gained presentation and networking skills that built my confidence as the internship progressed."
Andrea's communication skills were tested when the group presented their internship experience to Charlotte Mecklenburg Schools student-athletes at a conference. She'd presented projects to classmates at school, but she'd never spoken to strangers from a stage with microphones.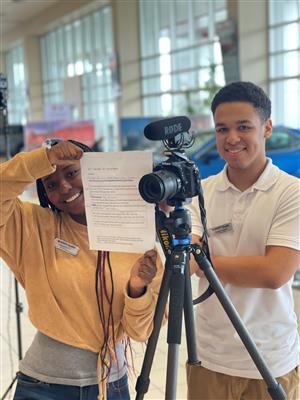 "It was nerve-wracking at first. We also discovered that not everything goes as planned. The screen behind us went black. We couldn't get the slides to work," said Andrea. "I felt relieved, in a way, because I didn't have to be perfect. The unexpected helped us calm down and work from our memories. We didn't skip a beat. I think it was much more impactful, too. It showed how much the internship had prepared us."
Andrea said that the internship provided her with several networking opportunities. She didn't believe she'd need a business card until after college, and now Andrea has one she designed.
"The time I spent at Scott Clark was great. They are team-oriented and it showed. Everyone from the marketing department to the finance department and everyone in between was helpful," said Andrea. "Working with other students that I might not have met otherwise was something I liked, too. We worked together very well."
Chris Carnes, the SCALE internship manager, said Andrea picked up a lot of the technical side of things very early on.
"She really liked working in Photoshop. Other students told us that when Patricia wasn't available, they would go ask Andrea," said Carnes. "Andrea had a special talent for it. We are glad we could cultivate it."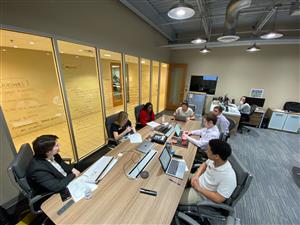 Through the UCPS Career Readiness CTE Internship program, Karen Adcock, the district's work-based learning coordinator, connects students and businesses. The program is structured to complement traditional classroom instruction.
"Internships should be encouraged as a way to gain real-world experience, explore potential career paths and learn basic workplace skills," said Adcock. "Students quickly realize that being a nurse is nothing like it is portrayed in Grey's Anatomy or that being in a business isn't an episode of The Office."
Andrea learned vital life and work lessons as a result of the process. She learned to collaborate, lead and work under deadlines. Her biggest takeaway was that she didn't have to know everything.
"My best advice to any students who are thinking about trying an internship is to do it. I'd say, 'Let your guard down. Don't go into it thinking you have to be something you're not,'" said Andrea. "I was scared at first, but that quickly faded when I understood that my teachers, coordinators and coworkers wanted me to succeed. They had come to teach me. I learned a lot about the workplace and myself."
For more information on work-based learning, visit https://ucpscte.org/work-based-learning.
06/08/2022