Return to Headlines
Closing one chapter and beginning another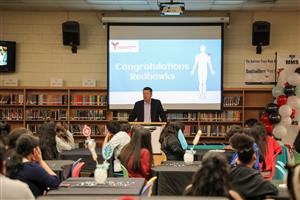 The Health Sciences Academy (HSA) at Monroe Middle School has a unique partnership with Atrium Health. It includes an innovative curriculum that exposes middle school students to clinical and operational elements of healthcare. Field trips to area hospitals and simulation labs, hands-on projects, medical research and other opportunities help students better understand the health sciences field.
Thirty-nine HSA students were celebrated and awarded certificates of completion during a June 3 ceremony. The students will be moving on to the program at Monroe High. Superintendent Dr. Andrew Houlihan, Michael Lutes, president of the southeast division at Carolinas HealthCare System and Shannon Batchelor, the principal at Monroe High, all offered their congratulations and advice to the students.
"I want to share something with you that came from a high school graduate several years ago. I've never forgotten what he said," said Dr. Houlihan. "I asked him what advice he would give to current eighth graders going on to high school. His words were, 'Don't mess up ninth grade.' The ninth-grade year can be challenging, daunting and hard, but you have a group of people in this room and at Atrium Health who will make sure you are supported and successful."
Students will be able to graduate with a high school diploma and two years of college by attending classes at the HSA at Monroe High and through SPCC. They can also choose the path to Wingate University and receive a $2,500 tuition discount per semester for two years. Ultimately, their opportunities expand to include employment with Atrium Health.
Lutes spoke to students about the difference between a job and a career.
"Jobs give you valuable skills such as time management, basic customer service and provide some level of income," said Lutes. "Your career is something you are passionate about, something special to you. A career is where you can grow professionally and provide even more opportunities for your family. The healthcare industry is competitive and growing. I look forward to hiring you in four years."
Batchelor explained what students could expect at the high school and answered questions from parents in attendance.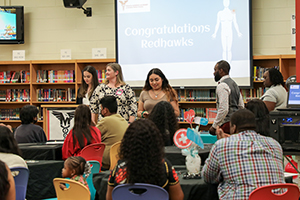 "Our HSA students are exposed to hands-on learning and full experiences, such as observing a live surgery or working with direct patient care," said Batchelor. "No matter what the experiences, they are waiting for you."
Samantha Taboada, an eighth-grader, planned to be a journalist until she discovered a box at home with a drawing from kindergarten with the words "I want to be a doctor." printed on it. She had forgotten about it, but it sparked her passion again. She chose to take the chance to fulfill a childhood dream.
"Finding it pushed me to want to become a pediatrician," said Samantha. "Honestly, I think I thought I couldn't do it. Now, I'm proving myself wrong. I feel more confident. I'm looking forward to taking more health science courses in high school."
Parents were equally enthusiastic about the end of one phase and the beginning of another. Latoya Perry, the mother of eighth-grader Kamaya Perry, said her daughter showed an early interest in becoming a neurosurgeon. There was no doubt that they would take advantage of this opportunity. Her daughter is also part of Wayfind, a free college-access program with a foundation in mentorship that the district offers in partnership with Wingate University.
"It's my seventh year here and my first as principal. Seeing the development of the program and progression of the students from sixth to eighth grade has been amazing," said Dr. Jamar Bellamy, the HSA at Monroe Middle principal. "Hearing that high school seniors have options to work in the medical industry makes it more real. The doors are there; all they have to do is walk through them."
The following students received their certificates:
Evelin Gonzalez y Gonzalez
Mailyn Hernandez
Alix Andablo
Allison Angelina Marban
Brenda Azua-Aparicio
Marely Castillo-Meza
Oscar Chavez-Ramos
Robert Clyburn
Jahaira Cruz Cortes
Litzy Cruz-Santiago
Karen Cuamacateco
Diego Cuevas-Hernandez
Emely Dominguez Hernandez
Aunyae Dorsey
Enrique Espinoza
Alexander Flores Mendez
Diego Flores-Goytia
Yaneli Galeana
La'Kaija Hood
Jocelyn Izoteco
Aida Lopez-Delgado
Kristine Mendez
Sandra Mendoza-Cruceno
Yariset Mota-Feliciano
Alexander Nava Galán
Kamaya Perry-Goodwin
Jacqueline Ramirez Martinez
Destiney Reeves
Kelvin Rojas
Atiana Romero
Katherine Rorie
Brittany Salvador
Carolina Sanchez
Karla Santos
Sierra Smith
Samantha Taboada Sosa
Jackie Turcios
Melanie Viveros-Avila
Santiaga Xop
06/13/2022