Return to Headlines
Three generations of students bid Piedmont Middle teacher farewell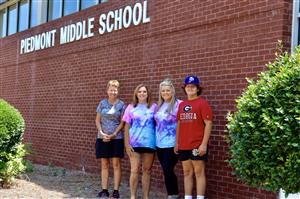 When his mother, Jessica Tucker, picked him up from school one afternoon, Dallas Tucker casually mentioned that his teacher, Dr. Karen Barbee, was leaving. Dallas's mother was shocked. Dr. Barbee taught her as well as her son and mother, Yvette Deese. She had hoped her other children would also have the opportunity to learn from her.
After 40 years of teaching, Dr. Barbee is retiring. She spent 38 of those years primarily as a science, health and physical education (PE) teacher at Piedmont Middle School. She also taught math, reading, and social studies during her first years at the school.
Her three former students agree that Dr. Barbee was one of their favorite teachers because of her charisma, patience, relatability and kindness. Dr. Barbee had Deese as a ninth-grade student when she briefly taught at Piedmont High. The pair had a good laugh at one memory.
"Their class was interesting because it was early in my career," said Dr. Barbee. "I went to take roll call. They decided to change their names. Someone wrote his name as Rick Flair. I thought it was the student's name. A few days later, I learned it was a wrestler's name. It didn't faze me. Kids test the waters."
Jessica Tucker said she learned that doing her best was the expectation, not perfection. She was always confident that she could speak her mind and be heard and that any conflicts that arose would be resolved.
"I thought she'd never retire because you could tell she enjoyed her job," said Jessica Tucker. "It wasn't a burden for her to come to school every day to teach middle schoolers."
Dallas described Dr. Barbee as a teacher with whom he could speak freely without feeling judged. Her colleague, Lana Funderburk, the school's media coordinator, said she has a heart for students and, as her 40 years attest, a love for education.
"She has no idea what a difference she has made as a part of the Piedmont community. It won't be the same without her," said Funderburk.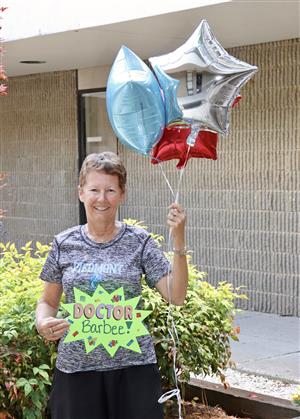 During all of Dr. Barbee's years of teaching, she never forgot that the work begins with creating relationships with students and their families. Her other insight is that compassion is necessary during one of the most challenging times in students' lives—middle school.
"Middle school isn't an easy time for students. They are no longer children and are in the early stages of adolescence. It can be confusing and emotional," said Dr. Barbee. "I love teaching seventh graders. They are the most unsteady, but they are approachable and adaptable."
In addition to what she covered in class, Dr. Barbee included life lessons. Sometimes she would bring reinforcements to help students transition from elementary to middle school. Her golden retriever therapy dogs would make an appearance, on occasion, at the school's Panther Camp to help calm students' nerves about starting middle school.
"I want my students to do well in school, but I also want them to be healthy, have good character and succeed in life," said Dr. Barbee.
Dr. Barbee wanted to be a teacher since she was a child. She was the child who would catalog her books on a shelf in the garage so children from the neighborhood could borrow them. Two different interactions with her teachers made her into the compassionate, go-getter she is today.
"I had a terrible seventh-grade PE teacher, so I wanted to change that for other children," said Dr. Barbee. "My 10th-grade science teacher was the first doctorate-holding instructor I knew. Since then, I've known I wanted to pursue a doctorate, which I recently completed."
Dr. Barbee describes herself as a lifelong learner. She also intends to remain involved in education in some capacity.
"My degree is in e-learning, so I may want to teach for a university from my porch online," said Dr. Barbee. "Then, in the back of my mind, I'd consider teaching science as an interim position if needed."
No matter where her new chapter takes her, she remains a much-loved teacher and colleague for many.
"Dr. Barbee has a drive like none other! She has left an impact on generations of Piedmont families and she will be missed tremendously," said Principal Dr. Cassie Eley.
06/22/2022