Return to Headlines
UCVirtual celebrates 10 years of serving students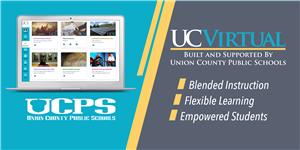 August 2022 will mark a decade of offering UCVirtual, a blended learning program, to Union County Public Schools (UCPS) students. UCVirtual mixes online and face-to-face instruction to give students more flexibility, independence and course options. What began with one online course has expanded to almost 40.
Garrett Williams, the district's e-learning program and development coordinator, attributes the program's long-term success and growth to its curriculum, developed in partnership with UCPS teachers. Teachers who educate in traditional classrooms and blended learning environments are involved in the process. Williams said the varying perspectives help to produce the best content.
"We are continually assessing our existing courses and building new ones as needed," said Williams. "We receive feedback from our students and teachers to ensure we provide the best experience for everyone."
Students may enroll in UCVirtual courses even if they do not offer them at their assigned school. Thrista Venkat, a 10th-grade student at Weddington High, wanted to study advanced placement (AP) world history as a freshman. Because it was not available that year, she enrolled in UCV.
"Taking the course in a blended setting taught me time management and what to expect if I took an online college course," said Thrista. "The teacher was helpful, and the once-a-week face time was an added support. Any student considering a UCVirtual course must work hard and not slack off."
UCVirtual teachers rotate schools at least once a week to meet with their students in a lab setting. The labs are open during class and staffed by a school employee known as a lab facilitator. Each school offers a lab where students from UCVirtual, credit recovery, Career and College Promise and North Carolina Virtual Public Schools can work.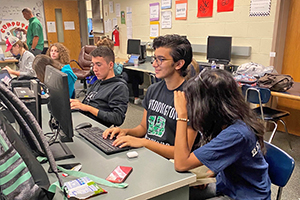 "Our lab facilitators are essential to the function of our program. They are the glue. They establish classroom management and ensure that each student is making progress while monitoring multiple platforms," said Williams. "We couldn't do this without them."
Candance Starnes worked as a classroom teacher at Marvin Ridge High School, teaching psychology and AP government, before becoming an instructor for UCVirtual. She said she likes having one-on-one time with students in smaller settings since they are not all located at one school.
"There is more opportunity for personalization, especially for introverted students," said Starnes. "The face-to-face time helps with accountability. It also shows someone is behind the emails, comments and screen."
Starnes is also one of the UCVirtual teachers who assist with curriculum development. She described it as one of the most fulfilling aspects of her work, especially when students tell her how much they learned from one of her courses.
"Developing a course is an intense process. I am usually the one teaching it, which helps me garner feedback from the students. Seeing it in action can let me know if any adjustments are needed," said Starnes. "Hearing the parents say their child is enjoying a class is one of the best parts for me. The content, so I've been told, has often improved dinner conversations. I can tell because the parent is using class terminology."
Students benefit from the program in many ways. Andre Adler, a recent Central Academy of Technology & Arts graduate, enrolled in two UCVirtual courses—Honors Civics and Economics in the spring of 2018 and Earth and Environmental Science in the fall of 2021. He enrolled in a fifth-block class, which allowed him to take a different course during the school day.
"I am grateful for the opportunities UCVirtual provided because of the fifth block class option. I got to take a metals shop class, which I wouldn't have been able to take if I had to replace that period with an in-person Earth and Environmental Science class. I got to learn something I enjoyed while also learning something I didn't know I would enjoy: earth science."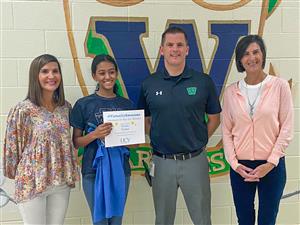 Alicia Swackhamer is the e-learning and development support person for the program. She adds that another critical component is making students feel like they are part of a community. Two students are recognized every six weeks as "Virtually Awesome." Teachers nominate students who have demonstrated strong academic and character standards.
Swackhamer and Williams agree that UCVirtual also supports students in becoming responsible digital citizens.
"The courses are also valuable because we have to teach students the right way to interact with one another online," said Williams. "Nowadays, there is some online component, whether students are heading to the workforce, community college, or university. It prepares them for the educational and work environments."
Williams has witnessed the program's expansion over the past 10 years. As teachers and students use digital tools daily, Williams' role has moved from assisting with technical aspects of the program to focusing more on the balance of the content, the application and delivery.
"The whole point of our program is to build and offer virtual learning the Union County way, which is more personalized," said Williams. "We have been blessed that district leadership has supported us. We look forward to many more years ahead."
Students interested in UCVirtual courses must speak with their school counselor. Visit E-Learning for more information on UCVirtual and the district's other e-learning offerings.
07/08/2022