Return to Headlines
Summer Bridge Academy students build skills while designing cars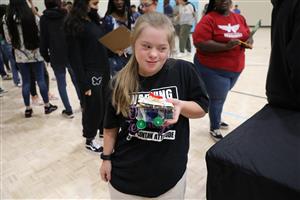 What do you get when you place scissors, tape, a plastic bottle, sticks, cardboard and elastic bands in a paper bag? Students at Piedmont Middle's Summer Bridge Academy recently discovered it had all the makings of a race car. The Summer Bridge Academy was made available to students in the second, fifth, and eighth grades for additional support in reading, math and science to help them successfully advance to the next grade level.
Charlotte Motor Speedway's mobile STEAM (Science, Technology, Engineering, Arts, and Mathematics) staff taught students from East Union, Piedmont and Porter Ridge middle schools how to build, move and race a car. Melissa Stirewalt, the organization's events and STEAM coordinator, led the activities with the tours and team manager Babette Huitt.
During the first part of the exercise, students were divided into teams, given bags, and instructed to build a car in 20 minutes with the provided materials. The chatter and discussion began almost immediately, followed by cutting, measuring and taping.
"Along with building their cars, students will use a five-lesson plan workbook to guide them through each timed step," said Stirewalt. "We want kids to have so much fun that they don't realize they are learning. We hope they see the importance of teamwork, problem-solving and critical thinking skills. Those skills will be very relevant in their futures as rising ninth-graders."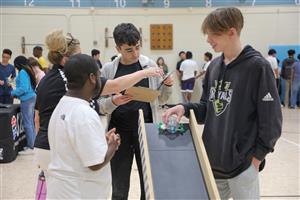 The goal was to design the fastest car. Students were eager to take on the challenge, but many underestimated how difficult it would be.
"This is harder than I thought. The wheels aren't moving. We have to make adjustments, maybe make the holes in the bottle bigger, "said Santiago Balamos, a student at Porter Ridge Middle. "We thought about using the cardboard, but it didn't work, either. We are trying different things to see what will work."
Ann O'Dell, a Piedmont Middle student, knows a lot about cars. She was excited when she found out people from the Motor Speedway were visiting. To enhance the car's traction, she and her team considered many factors, including airflow. Later, they added a little figure to the front they named Michael for good luck.
"There are spoilers and wings on race cars. I'm designing more of a wing to keep it balanced," said Ann. "We are hoping it will also help with wind speed."
Before a ramp test, each car was placed on a scale and weighed. A team member noted the results to help determine any potential adjustments. Students put their cars on the ramp and had to let them go without pushing as Stirewalt timed the drop from start to finish.
During the adjustment period, each team had to evaluate their results and work to improve their first performance in only 10 minutes.
"We saw that most other teams who used the water bottle as the car's body had a fast time. We're using what we already have and adding the bottle. We'll rearrange a few pieces, too, to see if we can beat our first time and win," said Robin Huntley, an East Union Middle student.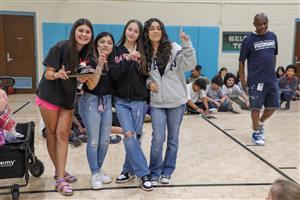 Most students saw an improvement the second time around. Alyssa Helms, a Porter Ridge Middle School student, and her team made the most significant progress. The car had great aesthetics but struggled to get down the ramp the first time. It breezed down the ramp on the second attempt, doubling its speed.
The Da Spider car, designed by Porter Ridge Middle students Haley Watkins, Natalia Donahue, Nicolle Zampieri, and Melany Estrada-Calzada, ultimately won.
Stirewalt spoke with the students about the many careers and internships available at the Charlotte Motor Speedway. She listed jobs people might not consider, such as chefs, social media, and graphic arts.
"We offered this enrichment activity to show students that they can learn while having fun," said Rachel Seighman, the Summer Bridge Academy administrator. Something they'll be able to take away from today's lesson is to never give up and to keep trying. Also, it's okay to ask for help and ask questions. For me, the value was watching the students' enthusiasm about being in the school building and working together to create something as a team."
07/21/2022