Return to Headlines
UCEC leadership class organize fundraiser to benefit Ukrainian children's hospital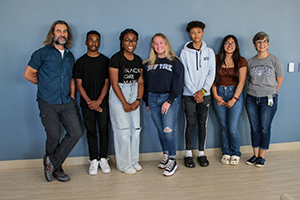 Impactful leaders can motivate others, communicate clearly and effectively and have strong people skills. Students at Union County Early College enrolled in a leadership course are using these and other skills through a service project. Their teacher, Amanda Bell, invited the founder of Wellspring International Outreach, Neale Bayly, to speak with her students to see if his organization was a good fit for their service project.
Wellspring International Outreach is a charity that focuses on helping abandoned children around the world. The organization has done work in Peru, Southern Africa and is working in Ukraine to support a local children's hospital.
"One of the teachers here, Melissa Cook, knew Neale because their children were in school together. He then visited the school and we were introduced," said Bell. "This is not the first time I've asked him to speak about his travels, photojournalism and philanthropy. I initially contacted him so he'd present his work in Peru. At the time, I didn't know I had texted him with the request the morning after he'd arrived from Ukraine. He was speaking to my leadership class that Friday about it."
Nyla White, a ninth-grade student, took the leadership class to promote awareness of topics people may not think about or keep track of regularly. Bayly's first-hand account of the war and its devastation made an impact and spurred the class into action.
The students decided to organize a school-wide fundraiser to support the Ukrainian children's hospital through Bayly's organization. They also invited him back so he could speak with the entire student body to kick off the fundraising effort, which is happening now through Sept. 23.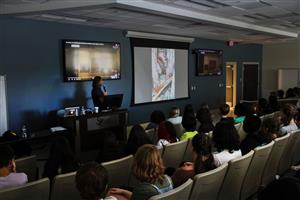 "By how he talks about it and the pictures he presents, it is clear that Neale values this deeply. Seeing it through his eyes motivated me to want to help. This fundraiser is one way we can do it," said Ethan Gibson, a 10th grader and leadership class student.
Traveling and working with his friend and award-winning photographer Kiran Ridley, Bayly spent nearly three weeks riding his motorcycle inside Ukraine. He showed students the images they both captured, told them why they had chosen to aid the children's hospital and spoke about his career and passions.
"I use my business Neale Bayly Rides to raise money for my charity Wellspring International Outreach. By riding motorcycles in foreign countries, I raise awareness and money for a need. The Lviv children's hospital will receive the funds you are helping us raise," said Bayly during his presentation.
Additionally, there was an engaging question-and-answer session. Many students wanted to know how he got started in his career and what emotions he felt while in Ukraine.
A BBC children's television program motivated English-born Bayly to lead an adventurous and philanthropic life. His childhood focused on fundraising for African farming projects that fed the hungry through the program. He picked up a camera along the way and had always enjoyed writing.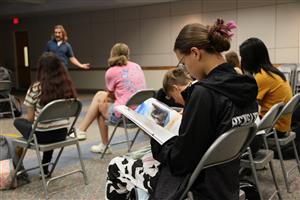 "Follow your passions. I've been able to use my interests to learn new skills. All of my childhood interests have come together," said Bayly. "Connections and relationships are also important. Had I not met Ms. Bell, I would not be here speaking to you today. That has been true for many opportunities."
He described his emotions in Ukraine as mixed with times of joy and laughter and periods of sadness and tears.
"There were a lot of different emotions while we were there. One day, we were doing a story about the harvest because it's been a problem getting grain. We were talking to the farmers on this sunny and beautiful day," said Bayly. "Then we were headed to Vinnytsia. Suddenly, an air strike warning went off on the phone. We realized the place we were headed had been hit."
UCEC photography club students also benefited from Bayly's visit. He explained his and Ridley's different photographic styles, provided them with suggestions and tools, and provided examples of other photographers' work.
09/14/2022